Microsoft Barrels Ahead with New Surface Tablets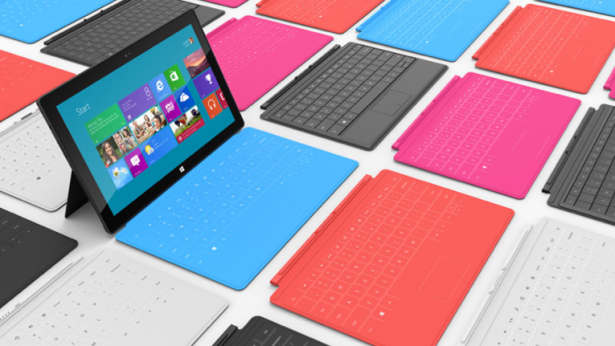 Even though Microsoft's (NASDAQ:MSFT) Surface tablets have performed disappointingly, to say the least, the company is planning to launch the next generation of the devices at a press event on September 23, The Verge reports.
According to sources and leaks seen by The Verge, the company will release the Surface 2 and the Surface Pro 2 tablets, though not a rumored Surface mini. The new tablets will be similar to the first generation, with a few improvements in RAM and battery life due to the use of Intel's (NASDAQ:INTC) new Haswell processor. Windows RT 8.1 will still be the software powering the devices, although the company is dropping the "RT" from the name of the tablets.
When Microsoft reported second-quarter earnings, it was revealed that the company took a $900 million charge from unsold Surface inventory. Microsoft CEO Steve Ballmer said at a company town hall event, "We built a few more devices than we could sell," and the company was forced to slash the price of the tablets.
 At the end of July, a report from the U.S. Securities and Exchange Commission showed that Microsoft had only made $853 million on the tablets. Now, the expensive and snarky ad campaign Microsoft rolled out comparing the Surface tablet to Apple's (NASDAQ:AAPL) iPad just seems sadly ironic.
It does appear as though Microsoft is sticking to the concept of laptop-tablet hybrids, a direction in which Apple has been unwilling to go. Since Apple is leaving that hole in the market, if Microsoft could create hybrid devices that interested people, the Surface tablets could, in theory, be very successful. Microsoft is pushing forward with Ballmer's restructuring plans, which include putting tablets, PCs, and smartphones together in one unit, with the idea that hybrid devices will become more popular over time, according to AllThingsD.
According to the Verge report, it doesn't seem like the next generation of Surface tablets are going to be much different than the first, and why Microsoft is choosing to continue to sink money into a product that has been notoriously unsuccessful is a mystery.
Follow Jacqueline on Twitter @Jacqui_WSCS
Don't Miss: Is Microsoft Trying to Steal Apple's iTunes Radio Thunder?