Microsoft CEO Steve Ballmer Takes a Hit to His Wallet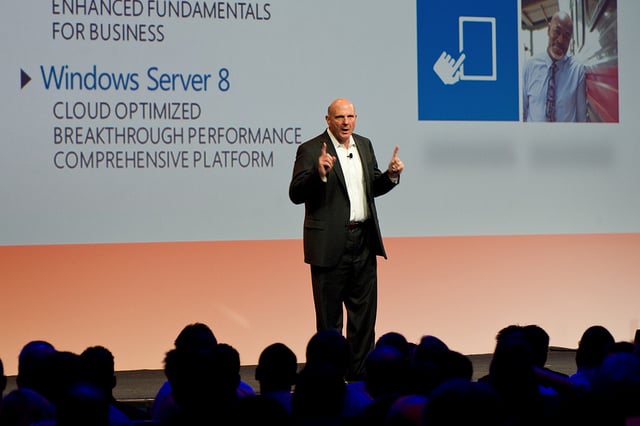 Microsoft Corp. (NASDAQ:MSFT) Chief Executive Officer Steve Ballmer has gotten a lot of flack this year stemming from disappointing Surface tablet sales and slumping PC sales. And now, Ballmer is taking a hit to his wallet as a result.
Bloomberg reports that Ballmer will miss out on over half of his potential bonus for the 2013 fiscal year in what amounts to more of a blow to the embattled CEO's ego than anything else. Ballmer is still set to receive $1.26 million in compensation for his work as CEO in 2013 as well as a bonus of $550,000 — 79 percent of his base salary. While those numbers might raise the question as to whether he deserved to have any bonus at all given Microsoft's year, it does represent a significant blow to the potential 200 percent base salary bonus he was eligible for.
For Ballmer, who is set to retire within the year, 2013 will be the second-straight year that the CEO has received less than half of his potential bonus. In 2012, Ballmer's fiscal year salary was $697,500 and his bonus took a sizable hit due to shortcomings in the performance of business units, including Windows and mobile phones. This year, it was those same business units plus a huge hit to its tablet division, which was unable to make headway against Apple's (NASDAQ:AAPL) iPads and the various tablets using Google's (NASDAQ:GOOG) Android software.
If Ballmer's 2013 fiscal year salary and potential bonus seem outlandish, especially considering Microsoft's recent performance compared to rivals Apple and Google, the tech giant's future compensation plans are set to display more of the same — emphasis on more. Microsoft announced that it will be increasing the target level of compensation for its senior executives in an attempt to remain competitive. Last month, the company stated that it would provide special awards to key executives in an attempt to keep them aboard during the transition to a new CEO and a shift towards devices and services.
Microsoft recently introduced two new versions of its embattled Surface tablet last month following a $900 million writedown last quarter due to anemic demand for the company's first generation of Surface tablets. With an emphasis on Windows-based software in order to keep its operating system relevant, Microsoft's Surface tablets were unable to make any imprint in the tablet market dominated by Apple's iPads, which use Apple's iOS, and the various tablets that use Google's Android mobile operating system.
Shares for Microsoft slipped a little less than 1 percent on Friday to close at $33.86 in New York. Despite the problems related to Microsoft's attempts to gain a foothold in the mobile device market, the company's stock has made a 27 percent gain this year.
Don't Miss: Is Microsoft Sneaking Past Google with HTC?