Microsoft Cuts Windows Price in Face of Apple and Google Competition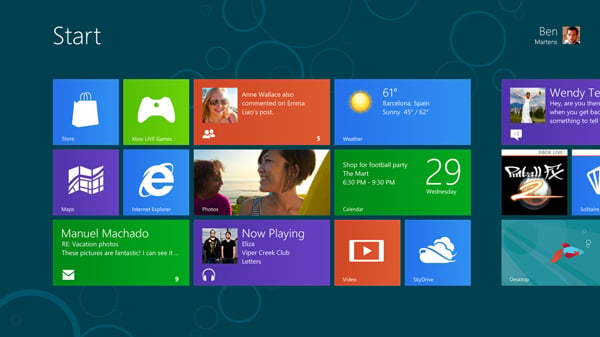 Increased competition from rivals like Apple (NASDAQ:AAPL) and Google (NASDAQ:GOOG) has forced Microsoft (NASDAQ:MSFT) to lower the licensing fee for its Windows 8.1 operating system software, reports Bloomberg. According to "people familiar with the program" cited by Bloomberg, Microsoft will lower the cost of the licensing fee for Windows 8.1 by 70 percent for manufacturers of lower-cost devices. Per the sources, the licensing fee reduction is designed to incentivize manufacturers to install Windows on cheaper devices, including tablets.
Microsoft will license Windows 8.1 for only $15 to manufacturers that preinstall the operating system on devices that cost less than $250, said Bloomberg's sources. However, Microsoft will still charge its typical licensing fee of $50 for devices above the $250 price threshold. The price reduction will also not apply to the retail price of Windows 8.1 that consumers buy.
Microsoft's Windows software has come under increasing competitive pressure from the growing popularity of tablets, as well as low-cost Chromebooks — notebooks that use Google's operating system. Apple has long dominated the worldwide tablet market with its iPad line of tablet devices. According to data from market research firm Strategy Analytics, Apple finished 2013 as the No. 1 tablet vendor with a 33 percent share of the global market. Outside of Apple, most other tablet makers use some version of Google's Android operating system. On the other hand, Microsoft has struggled to gain significant market share with its Surface line of tablets and the company failed to qualify among the top five global tablet vendors in the fourth quarter of 2013, according to IDC data.
Meanwhile, the traditional PC market that has long been dominated by Microsoft's Windows is in decline. According to data from market research firm Gartner, PC shipments in 2013 fell to 315.9 million units, a 10 percent decline from 2012. As noted by Gartner, last year was the worst decline in PC market history and the consumer shift to tablets will likely continue.
"Strong growth in tablets continued to negatively impact PC growth in emerging markets," noted Gartner principal analyst Mikako Kitagawa. "In emerging markets, the first connected device for consumers is most likely a smartphone, and their first computing device is a tablet. As a result, the adoption of PCs in emerging markets will be slower as consumers skip PCs for tablets."
Similarly, Canalys predicted that tablets will account for almost 50 percent of the total PC market if the devices are counted alongside traditional desktops and notebooks. The market research firm also noted that Microsoft will likely only take 5 percent of the total tablet market in 2014. However, it remains to be seen if Microsoft's upcoming licensing fee reduction program will help it to boost its share of the overall PC market this year.
Follow Nathanael on Twitter (@ArnoldEtan_WSCS)
More from Wall St. Cheat Sheet: