Microsoft Exec on Free iWork Apps: Apple Is Playing 'Catch Up'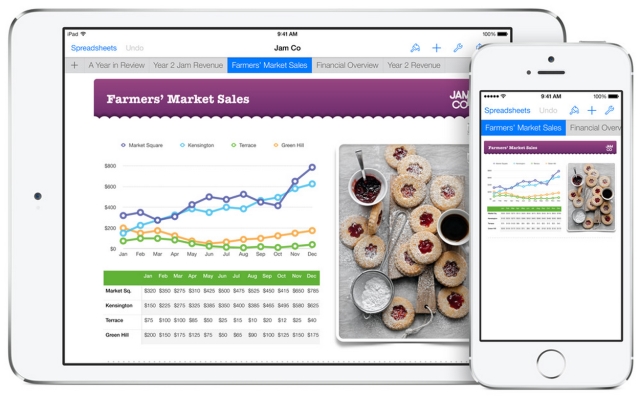 In a move that many industry watchers interpreted as a direct challenge to Microsoft's (NASDAQ:MSFT) Office software, Apple (NASDAQ:AAPL) announced during its Tuesday media event that its iWork suite of apps will now be offered for free to users who buy a new iOS or Mac device. However, one Microsoft executive took exception to this view and called Apple's move "an attempt to play catch up."
In a recent blog posting, Microsoft's corporate vice president of communications, Frank Shaw, outlined the reasons why he believes Apple's iWork suite of apps and iPad are inferior to Microsoft's Office software and Surface tablet devices. Shaw argued that Apple's iPad is a device designed for entertainment, rather than productivity; meanwhile, he believes that Microsoft's Surface is "a terrific blend of productivity and entertainment in one lightweight, affordable package."
He noted that Apple's iPad "lacks precision input" and the ability to open "multiple windows, either side by side or layered to fit the way most people actually work." Besides including "precise input methods like keyboard/trackpad" and more "work-friendly" features, Shaw also pointed out, "The Surface and Surface 2 are less expensive than the iPad 2 and iPad Air respectively, and yet offer more storage, both onboard and in the cloud."
The Microsoft executive also criticized Apple's closed ecosystem by calling Apple's iWork apps "non-standard, non-cross-platform, imitation apps that can't share docs with the rest of the world." Shaw pointed out that Windows and Office are already found in "every corner of the globe and powering every academic institution, industry and profession."
On the other hand, Apple's executives view Microsoft's attempt to "blend" PC features into a tablet as a sign that the Windows maker is lacking a clear vision. "Our competition is different. They're confused," Tim Cook said at Tuesday's media event in San Francisco. "They chased after netbooks. Now they're trying to make PCs into tablets and tablets into PCs. Who knows what they'll do next. I don't know but we do have a very clear direction. We believe deeply in this category and we haven't slowed our innovation."
Although Microsoft is far more established in the productivity software market, Apple currently dominates the tablet market. According to IDC data, Apple is the biggest worldwide tablet vendor, with a 32.4 percent share in the second quarter of 2013. During the same period, Microsoft's Windows and Windows RT operating systems only had a 4 percent and 0.5 percent share of the market, respectively.
Here's how Apple traded over the past week.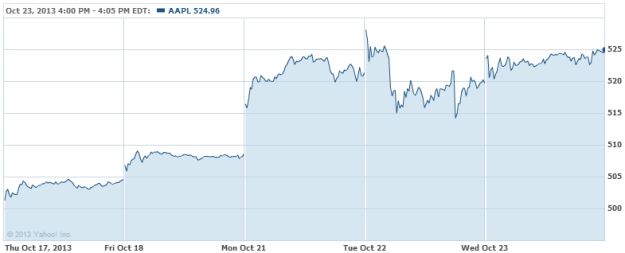 Follow Nathanael on Twitter @ArnoldEtan_WSCS
Don't Miss: Here's How Apple's Mac Pros Are Made.