Microsoft Launches Windows App for iPhone and 2 Other Dow Movers to Watch
Microsoft Corporation (NASDAQ:MSFT): Current price $35.15
Microsoft has announced the intro of a Windows app for Apple's (NASDAQ:AAPL) iPhone, but it is not offering this app on iPad. Users may access the app with an Office 365 subscription for $100 per year, which will permit users to add Office suites to 5 Windows or Mac devices, but not the iPad. It appears that Microsoft is attempting to entice users to come back through its flagship Office software, an app which will allow users to work on and edit documents, upon which they were already working. However, they will not be able to view charts, animation and other features on the phone.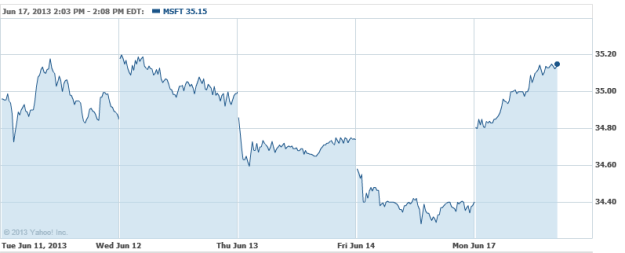 AT&T (NYSE:T): Current price $35.92
The giant telecom has been selected as fastest 4G LTE network in the United States, according to a newly-published study by PC Magazine. Results of tests conducted in 30 domestic markets indicate that AT&T wireless customers are receiving benefits from extremely fast wireless Internet speeds. Beyond being ranked the fastest overall in the country, AT&T's network claimed the top rankings in all six regions: Northeast, Southeast, North-Central, South-Central, Northwest and Southwest. What is more, AT&T's network also ranked number one in 24 of the 30 markets tested. PCMag.com's head mobile analyst Sascha Segan said that "AT&T is on top of the world this year with the fastest LTE network in most major cities. Combined with a fast HSPA network where it doesn't have LTE coverage, that makes AT&T our choice this year for speedy mobile data."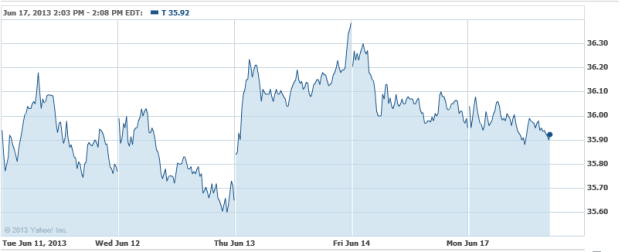 Merck & Co. (NYSE:MRK): Current price $47.94
Merck spokesman Steve Cragle says that the drugmaker will cut jobs at its research laboratories, some two months following Roger Perlmutter taking control of the division. The reconfiguration includes immediate elimination of certain positions and added reductions over time. Cragle also said that it is too soon to know how many or what positions will be impacted, commenting in a telephone interview that, "The changes are part of our existing strategy that we've talked about for quite some time, as well as our commitment to streamlining our operating model." The spokeman also said that the structure of Merck Research Laboratories "has been altered to simplify governance so we can advance our therapeutic and vaccine candidates more efficiently and focus our resources on the most promising programs."

Don't Miss: Source: Microsoft on Spending Spree For Windows Phone Apps.