Microsoft Plays Fast and Loose With iPad Screen Size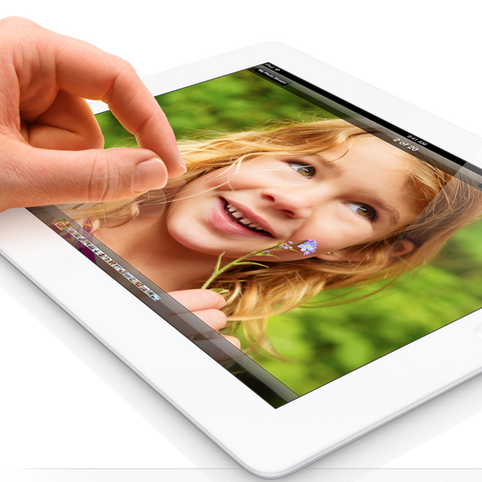 Did Microsoft (NASDAQ:MSFT) try to pull a fast one on consumers with its latest "iPad vs. Windows" advertisement? An alert observer noticed an interesting size discrepancy in an advertisement that Microsoft posted on its official website.
The advertisement is a promotion for the ASUS VivoTab Smart 64 GB tablet that runs the Windows 8 operating system. The ad uses a classic side-by-side comparison format that gives consumers a list of iPad features next to a list of Windows tablet features. Although the various specifications and features listed for each tablet product appeared to be accurate, the visual graphic depicting each tablet at the top of the lists was not.
Elliot Temple noticed that the pictures depicting each tablet device were not to scale. In fact, Microsoft's 10.1-inch tablet was shown as being 36 percent larger than Apple's (NASDAQ:AAPL) 9.7-inch iPad. However, this is a significant distortion of reality.
The iPad screen measures 7.76 by 5.82 inches. Although the Windows tablet screen is horizontally longer at 8.8 inches, it is also vertically shorter at 4.95 inches. This gives the iPad a total of 45.16 square inches of screen estate, while the ASUS VivoTab Smart has a total screen area of 43.56 inches.
This means that the Windows tablet screen has 3.55 percent less area than the iPad. However, the side-by-side visual representation of the two tablets showed the ASUS VivoTab Smart as having 36 percent more area. Temple also notes that Microsoft had text at the bottom of the graphic that read "The ASUS VivoTab Smart is lighter than the iPad, has a bigger touchscreen…"
However, you won't find the misleading graphic or text on Microsoft's website anymore. Temple notes that "Microsoft changed the webpage within 13 hours after I posted." Was Microsoft engaged in some commercial chicanery or did it simply make an honest scaling mistake?
Here's how Apple and Microsoft have traded over the past week.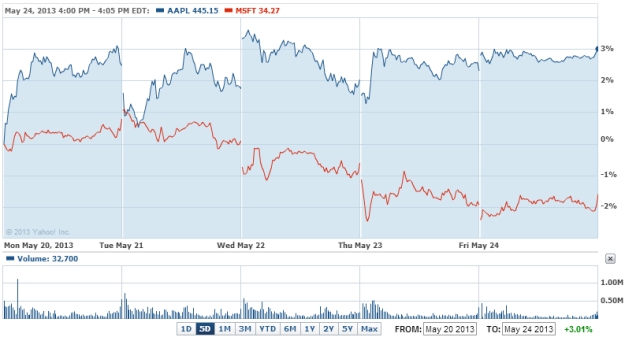 Follow Nathanael on Twitter (@ArnoldEtan_WSCS)
Don't Miss: Did Apple Slip the iWatch Into This iPhone 5 Ad?