Microsoft Poised to Debut Durango and 2 Other Hot Stocks to Watch
Microsoft Corporation (NASDAQ:MSFT): Current price $34.90
Microsoft will reveal its newest videogame console, code-named Durango, at 10:00 a.m. Pacific Time. Eric Johnson at AllThingsD reports that the Xbox 360 release will mark Microsoft's first completely new console, other than the 360 add-on Kinect, since 2005. Chatter has it that about just everything from its name to whether the new Xbox will need a consistent internet connection. Observers will be especially watching today how much of the planned one-hour presentation will be used up on games, rather than the other forms of media with which the new Xbox will be able to interact and control. The unveiling event on Microsoft's Redmond campus will be broadcast live on cable channel Spike TV and also on GameSpot's channel on Twitch.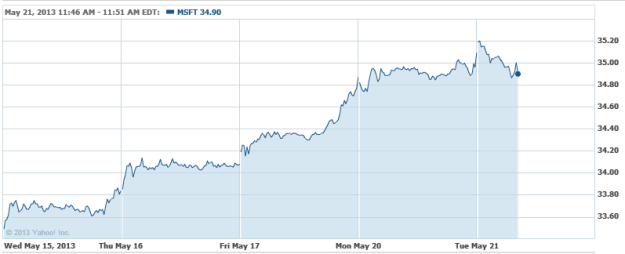 Apple (NASDAQ:AAPL): Current price $439.94
Chief Executive Tim Cook is set to be questioned by a United States Senate panel on Tuesday as to whether Apple is avoiding big bucks in taxes by transferring profits to foreign affiliates, and in general about the "loopholes." Cook will be obliged to explain his company's tax strategy to the Senate Permanent Subcommittee on Investigations, which on Monday issued a detailed report on Apple's practices. For its part, the firm says that it complies with the laws and pays "an extraordinary amount" in United States taxes. The panel Chairman Senator Carl Levin (D-MI) says that Apple's use of loopholes in the tax code is 'unique among multinational corporations.'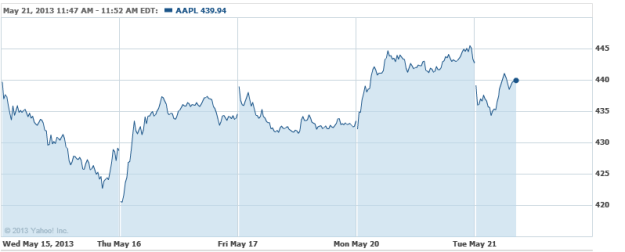 JA Solar Holdings Co. (NASDAQ:JASO): Current price $10.38
JA Solar has posted a loss of 85 cents per American Depositary Share in its first quarter, which is actually better than the Zacks Consensus Estimate of a loss of $1.01. But, results came in far below the year-over-year earnings per ADS of $1.03. The firm was able to trim the loss on a sequential basis, supported by record first-quarter shipments that surpassed its forecast, attributing strong demand in the high average selling price market of Japan  to the growth.

Don't Miss: Is Apple Still the World's Most Valuable Brand?