Microsoft Pushes Windows Azure In Japan and 2 Other Hot Stocks to Watch
Microsoft Corporation (NASDAQ:MSFT): Current price $34.30
Microsoft is enlarging capacity for its Windows Azure cloud computing services for Japanese firms, as it gambles on rising corporate information tech spending there. Chief Executive Steve Ballmer commented to reporters during a news conference that "opportunity in Japan for growth and innovation, we find incredible. Japan is our second largest subsidiary and I have a lot of optimism about our process here in Japan." Beyond that, Ballmer pointed to an IDC estimate that the market for Japan's cloud computing services will come to $3.5 billion by 2017.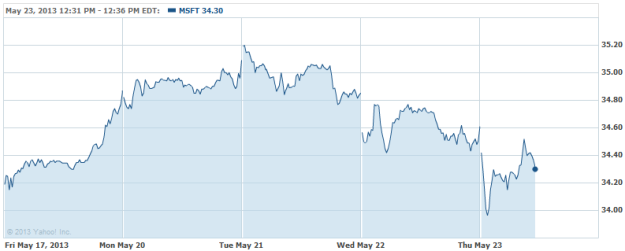 Apple (NASDAQ: AAPL): Current price $442.84
For two consecutive years, Apple has ranked number one in the American Customer Satisfaction Index for cell phones, even though its score of 81 slid a bit from that of 2012. Google's (NASDAQ: GOOG) Motorola subsidiary was placed a number two with a score of 77. Meanwhile, Apple's chief competitor Samsung scored 76, representing the largest sequential improvement for any firm, gaining 7 percent, placing company's satisfactions core equal to that of Nokia, who also scored 76 following a modest gain. Other OEMs such as HTC, LG, and BlackBerry scored lower in the benchmarks.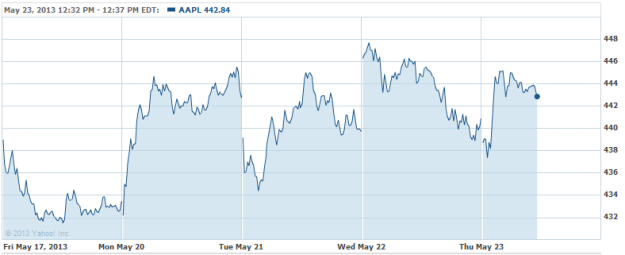 rue21 (NASDAQ:RUE): Current price $41.87
On Thursday, the specialty apparel retailer and the private equity firm Apax Partners announced that funds advised by the latter will purchase all outstanding shares of rue21 at $42 per share in cash. The transaction is valued at roughly $1.1 billion, and the transaction price marks a premium of about 23 percent to Wednesday's close and around 42 percent to the 90-day volume weighted average price.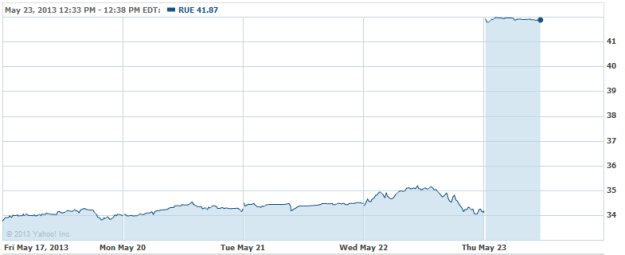 Don't Miss: Analyst: iWatch Not Coming Before Next Year.