Microsoft Sees Challenge by Google's Nexus 7 Update and 2 Other Dow Movers to Watch
Microsoft Corp. (NASDAQ:MSFT): Current price $31.98
On Wednesday, Google Inc. unveiled an updated version of its Nexus 7 tablet, helping the search giant in its endeavors against competitors like Microsoft and Apple. At an event today in San Francisco, Vice President Hugo Barra, Android product management, said that the Nexus 7 — which is being produced in a partnership with Taiwan's Asustek Computer Inc. — will be "narrower and lighter with a sharper screen," and "It's a much more comfortable grip and fits easily into your purse or jacket pocket. The screen having a crisp and bright display makes all the difference." Google initially debuted the Nexus 7 around a year ago, and is enhancing its lineup of tablets.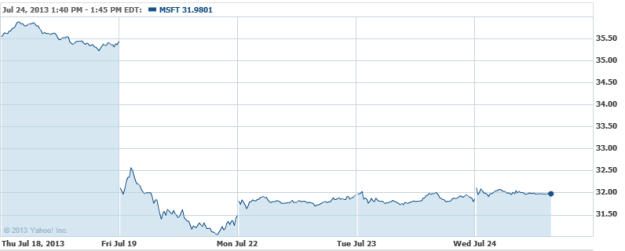 The Coca-Cola Co. (NYSE:KO): Current price $40.85
The Mexican bottler Coca-Cola Femsa reported Wednesday that its second quarter profit increased by about 3.5 percent, while lower sales costs and sugar prices outweighed a small drop in revenue, owing to currency weakness outside of Mexico. Femsa posted a profit of 2.807 billion pesos, or $216 million, which was up from 2.713 billion pesos year-over-year. Revenue dropped to 36.26 billion pesos, from 36.30 billion pesos in the year-ago period. The bottler said that revenue was impacted as currencies in Argentina, Venezuela, Brazil, and Colombia depreciated against the Mexican peso during the quarter.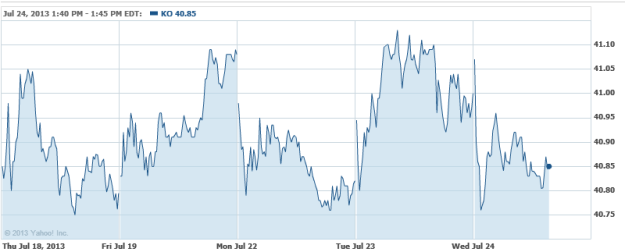 UnitedHealth Group Inc. (NYSE:UNH): Current price $72.39
United Health Foundation is awarding almost $2 million to 175 students coming from diverse, multicultural backgrounds. The scholarships form part of United Health Foundation's Diverse Scholars Initiative, which pushes for increased diversity in the healthcare workforce by supporting promising future health professionals. The Foundation made the announcement at its fifth annual Diverse Scholars Forum, which brings over 60 scholarship recipients to Washington, D.C. on July 24 through 26 to celebrate the scholars, and also to inspire them to work towards strengthening the health care system.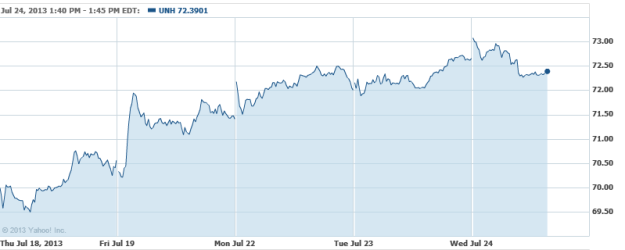 Don't Miss: Another Dime From Michael Dell May Not Be Enough.