Microsoft Takes Mobile Phone Business, Leaves Nokia With …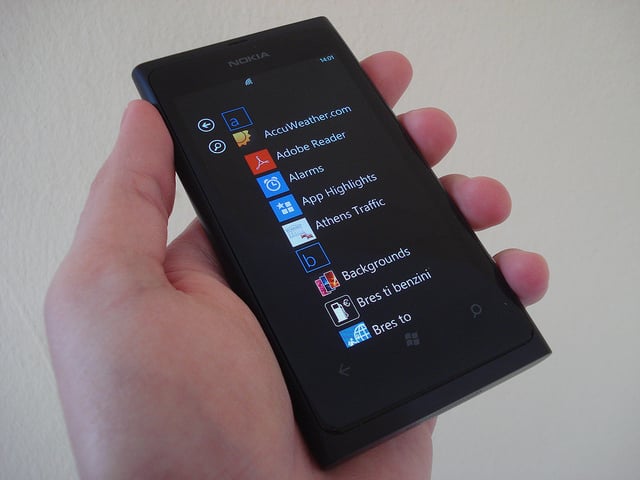 The steep 20 percent drop in first quarter revenue that Nokia (NYSE:NOK) reported on April 18 came even as the company reported a 27 percent increase in shipments of its flagship Lumia, the smartphone on which the handset manufacturer had pinned its turnaround hopes.
At the time, dropping sales and far-from-strong smartphones shipments were seen as signs that any recovery would be hard to come by. It was definitely proof for investors that the company remained far behind handset market leaders Apple (NASDAQ:AAPL) and Samsung (SSNLF.PK) , and shares dropped as much as 16 percent. "Sentiment will now shift back to looking at Nokia as a collection of eroding assets alongside an as yet unproven product cycle," wrote Jefferies equity analyst Lee Simpson, referring to the company's second generation of the Lumia phone. The results left many analysts speculating whether the smartphone market would soon see a merger or an acquisition.
Nokia's second quarter's $151 million operating loss did even more to reinforce its image of a company struggling to hang on. But the fact that the loss was much smaller than the $7.46 billion loss reported in the previous quarter kept shares from falling further. Still, investors did not bid shares up much higher than the price they were trading before results were reported in mid-July. However, after Microsoft's (NASDAQ:MSFT) acquisition of Nokia's once-dominant mobile phone business was announced, investors began to show increased confidence in the company. In the two plus months since the $7.2-billion purchase was announced at the beginning of September, shares have gained 95.65 percent.
As the advancing share price indicates, shareholders are likely to approve the acquisition, even though that deal means the selling of a business representing more than half of its sales. As the Financial Times reported Sunday, the future of Nokia and its mobile phone business will likely be determined at a general meeting held at the company's headquarters in Helsinki, Finland on Thursday.
Earlier in the year, analysts postulated that since Microsoft already designs the software that runs the majority of Nokia's smartphones, it would make sense for the Windows Phone software developer to purchase the entire handset division from the Finnish mobile phone manufacturer. For Microsoft, the acquisition of Nokia's mobile phone business is a clear bid to accelerate its growth into mobile computing, a transformation that has largely left the company lagging behind.
Personal computers once dominated the technology sector, but now consumers spend more time using their mobile devices to watch videos, shop, and communicate with friends and family. The mobile revolution has forged winners, like Apple, and forced other market players to play catch up after having failing to adapt quickly enough to the changes. Those companies include PC-software pioneer Microsoft and Nokia, which was a leader in early cellphone design until Apple's introduction of the iPhone in 2007 and the iPad in 2010 shock up the technology world. In 2006, it controlled half the smartphone market.
When Nokia began to lose market share, the handset manufacturer realized it was time for a change. The company's problems were most accurately summarized two years ago by Chief Executive Officer Stephen Elop. In an internal memo written two years ago, he likened the company to a man working on a burning oil platform in the middle of the North Sea, whose situation presented a Catch-22: he could either risk death on the "burning platform" or take a plunge into the freezing water, which could save him.
Elop chose to form a partnership with Microsoft, which was looking for an ally for its new smartphone software. Nokia picked Microsoft's Windows Phone mobile operating software over Google's (NASDAQ:GOOG) Android, a deal that made both companies deeply dependent on each other for their mobile future. Nokia agreed to only use Windows Phone to power its smartphones, while Microsoft pledged to spend billions of dollars on marketing and engineering assistance.
Even though Windows Phone has surpassed BlackBerry (NASDAQ:BBRY) as the third-biggest smartphone operating system, its sales continued to stagnate amid competition from Samsung and other Android-powered smartphones quarter after quarter. Windows Phone accounted for only 3.7 percent of all smartphones shipped in second quarter, according to the technology research firm IDC, but by the third quarter of this year, Windows Phone solidified its position as the third most-popular mobile operating system, with a 123 percent year-over-year increase.
Nokia may be the second-largest mobile phone manufacturer behind Samsung, but that is only because a majority of the phones it ships are lower-end feature phones, which are falling out of favor as consumers increasingly turn to smartphones. Nokia was not even among the top five makers of smartphones in the second and third quarter.
With Nokia's core business soon to be a part of Microsoft, the technology giant will have the same measure of control over both mobile hardware and software as Apple. But what will happen to Nokia once it has shed the weight of its Mobile business is the question investors want answered. While the company has not definitively set out a new business model, the core of the company will now be comprised of its telecoms equipment business — Nokia Solutions and Networks, or NSN. With the cash from Microsoft's acquisitions, Nokia could buy out a rival so as to better compete with rival Ericsson. This possibility has received plenty of scrutiny from shareholders; typically, big purchases make both analysts and investors worry.
"That is usually the position you don't want them to take: the danger is they pay too much and there are big integration risks," Nordea analyst Sami Sarkamie told the Financial Times. But, the unit's Chief Executive Officer Rajeev Suri told the publication he will not be pushed into any "silly acquisitions" nor make any significant transformations in the near future. Still, he did admit that the longer term picture could include acquisitions given the new strength of Nokia's balance sheet. The early days of the new business configuration will not be easy ones. Like the smartphone market, the telecoms market is highly competitive and made all the more difficult thanks to lower cost alternatives made in China. NSN's revenue dropped 26 percent, year-over-year, in the third quarter.
Follow Meghan on Twitter @MFoley_WSCS
Don't Miss: Rumor: Major Apple Supplier Halts iPhone 5C Production.