Microsoft Will Pay You to Ditch Apple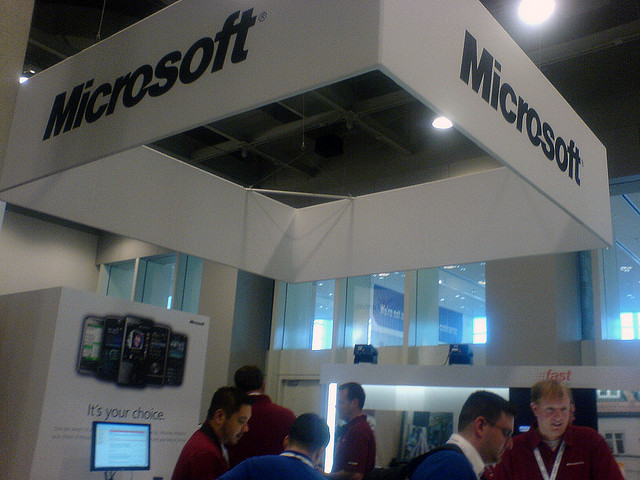 Microsoft (NASDAQ:MSFT) announced a tablet trade-in program at the beginning of the month, offering a $200 Microsoft gift card to those willing to trade in an Apple (NASDAQ:AAPL) iPad with hopes that customers will use the credit to switch to one of its Surface tablets. Now, Microsoft is offering a similar program for the iPhone, giving those willing to trade in their Apple smartphones $200 toward Microsoft products.
Although the iPhone trade-in program hasn't been officially announced, people familiar with the matter told Forbes that it will be unveiled at select Microsoft stores in the U.S. and Canada on Friday. The company is likely hoping that consumers will use the cash to switch to a Windows Phone, although the gift card can be used toward other Microsoft products, as well.
Microsoft's ventures into the tablet and smartphone markets haven't been very successful, especially in comparison with Apple. Microsoft's Surface tablets have done notoriously poorly despite favorable reviews in comparison with the iPad — like this one:
Microsoft faced a $900 million write-down on Surface inventory in its latest earnings report, and a filing with the Securities and Exchange Commission earlier this summer showed that the company only made $853 million in revenue on the tablets. Meanwhile, Apple's iPad has continued to crush its competition in the tablet market.
Apple's new devices had an impressive opening weekend, selling a record-breaking 9 million units after the iPhone 5S and 5C were launched in markets around the world on September 20. Those numbers prove that consumers were willing to wait and pay top dollar for Apple's new devices, instead of switching to a Windows Phone. But it is possible that Microsoft's program could appeal to more budget-conscious users of older iPhones that would find the $200 credit toward a new device without having to break contract appealing.
For now, the Windows Phone operating system has a very small market share in an industry dominated by Apple and phones running on Google's (NASDAQ:GOOG) Android. Microsoft recently acquired the devices and services unit of Windows Phone partner Nokia (NYSE:NOK), and that acquisition along with an aggressive trade-in program could help the company edge its way into the highly competitive smartphone market.
Follow Jacqueline on Twitter @Jacqui_WSC
Don't Miss: Morgan Stanley's Huberty Joins Crowd of Apple Optimists