Microsoft's Ballmer Goes Out With a Bang at Last Company Meeting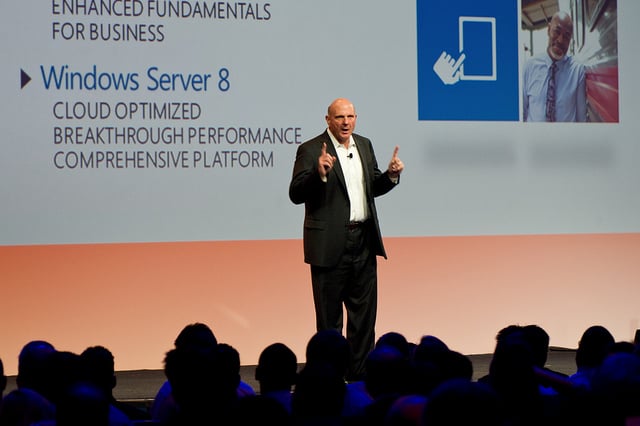 Microsoft's (NASDAQ:MSFT) current CEO Steve Ballmer is on his way out, and it's becoming increasingly evident that he is going to go kicking and screaming — maybe not so much the former yet, but definitely the latter.
It wouldn't be a real companywide Microsoft meeting if Balmer didn't throw some jabs, so he made sure to, according to Apple Insider, as he addressed his 13,000 full-time employees for what will likely be the last time. The CEO took the stage Thursday and delivered an emotional yet poignant speech on what Microsoft has in store for the future, and what its rivals are lacking. Despite the abrupt announcement of his departure in late August, Ballmer remained upbeat about his company's future prospects and maintained, even without him, "We have unbelievable potential in front of us, we have an unbelievable destiny."
But Ballmer also wasn't going to make his performance solely about Microsoft, because that would deviate from the norm for the CEO. Instead, according to Apple Insider, he highlighted the performances of Apple (NASDAQ:AAPL), Google (NASDAQ:GOOG), and Amazon.com (NASDAQ:AMZN) — conspicuously the three companies that currently dominate the tech company — and proceeded to share his views of them, explaining that Apple is only "fashionable," while Amazon is "cheap," and Google is only about "knowing more," unlike Microsoft which is about "doing more."
It was an interesting speech for a CEO whose company's market share has taken such dramatic a plunge during his reign, but it also wasn't entirely unexpected, as Ballmer already blasted Apple for being a "low-volume player" last year and is known for being especially keen on vocalizing his opinions. No one in the crowd Thursday asked Ballmer is he still views Apple as a "low-volume player" after it recently sold 9 million iPhones in just the first weekend of its smartphone launch, but one can make their own speculations about whether his theories have changed.
Nonetheless, Ballmer maintained the belief at his meeting that, "Only our company and a handful of others are poised to write the future. We're going to think big, we're going to bet big." It is still unclear what successor will follow in Ballmer's footsteps, but he will soon step down and hand over the microphone. The next CEO will inherit a company that is working to follow the evolution of technology, and though its recent acquisition of Nokia's (NYSE:NKE) cell phone business is a step in the right direction, it is evident that the Redmond, Washington-based company still have a long way to go.
Don't Miss: Google Celebrates Anniversary With This Search Engine Shift.