Microsoft's Windows Update, Can Netflix and Pay-TV Play Nice? Market Recap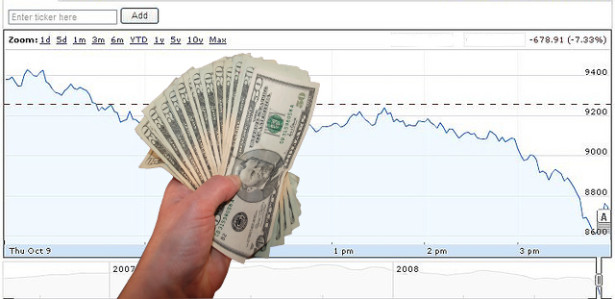 U.S. stocks rose during trading Monday due to increased signs that lawmakers will come to a budget agreement before the country exhausts its borrowing authority in three days. The White House said in a statement on Monday that "important progress" had been made in negotiations over the budget and the Affordable Care Act. Senate leaders have said they're optimistic a deal will be reached soon. If not, the U.S. risks defaulting on its debt by the end of the month, an event that would have catastrophic consequences for economies around the world.

Gold: +0.36% to $1,272.80 per ounce; Oil: +0.11% to $102.13 per barrel; U.S. 10-Year: +0.34 to 2.691%.
5 Major Effects of the Government Shutdown: The present government shutdown is having significant effects on services and programs — frustrations are only building as a result. A quick update on those hit hardest is in order, with the U.S. dragging into the next week of closure… (Read more.)
Is the G-20 a Good Idea Gone Sour? In 2008, finance ministers and central bankers from the world's largest economies had a pretty good idea. Observing that the global economy was nosediving into recession — thanks largely to a massive financial crisis in the United States, though the contagion spared few — they decided to coordinate their efforts to prevent global depression… (Read more.)
GOP's Shutdown Strategy: An Ideological Boomerang: October 1 marked an important day in the history of the Affordable Care Act, the most ambitious social program implemented in the United States since Medicare was passed in the 1960s. The irony is that the individual insurance exchanges opened the same day as the government was shut down because lawmakers in the House and Senate could not agree on whether to fund the health care law… (Read more.)
Here's your cheat sheet to today's top stocks stories.
Netflix (NASDAQ:NFLX) and U.S. cable providers may be considering lucrative tie-up contracts, as The Wall Street Journal highlights rumors that say Netflix has offered the idea of making its streaming video service available as an app on U.S. providers' set-top boxes, similar to a strategy Netflix already employs in the U.K. … (Read more.)
General Motors (NYSE:GM) is opening a $200 million metal-stamping plant in Arlington, Texas, as a part of CEO Dan Akerson's plan to raise the company's margins, The Wall Street Journal reports. The plant is located next to an existing General Motors assembly plant, which will help GM save $40 million per year in shipping costs… (Read more.)
Microsoft (NASDAQ:MSFT) announced Monday that it's updating the Microsoft Windows 8 operating system to prepare for the launch of new Nokia (NYSE:NOK) smartphones and tablets at an event in Dubai on October 22. Microsoft's Windows 8 Update 3 will include support for larger, high-resolution screens and the Qualcomm (NASDAQ:QCOM) Snapdragon 800 processor… (Read more.)
Twitter's (NYSE:TWTR) financial terms on its initial public offering bespeak a far different beginning to life as a public company than those of Facebook (NASDAQ:FB). That company was extended a credit line of $8 billion and its IPO raised $16 billion, of which the underwriting banks received 1.1 percent in fees. Comparatively, Twitter is going public for a sum of $1 billion with an underwriting fee of 3.25 percent and a credit line of $1 billion… (Read more.)
Advanced Micro Devices (NYSE:AMD) was upgraded by Wedbush to Outperform from Neutral, and Wedbush expects AMD to benefit from the rise of gaming consoles. The firm believes AMD is well-positioned for the long-term to gain share in servers with its dual architecture strategy. Wedbush raised its price target for the stock to $5 from $4.50.
Yelp (NYSE:YELP) iOS app version 7.2 has just arrived, bringing with it a number of interface changes. Not forgetting Android users, Yelp has some changes in store for those who went the smartphone route sans Apple's (NASDAQ:AAPL) iPhone. Previously, only the Yelp check-in location option was available to Google's (NASDAQ:GOOG) Android users, according to PCMag… (Read more.)
Follow Jacqueline on Twitter @Jacqui_WSCS
Don't Miss: Corporate Fantasy Football: Microsoft's CEO Search.