Misek Boosts Apple, HSBC Slapped with Damage Claims, and 3 More Hot Stocks
Apple Inc. (NASDAQ:AAPL): Jefferies analyst Peter Misek, following a trip to Asia, has slapped Apple with a $600 price target — up from $425 — and a Buy rating. The voyage showed a "substantial shift in attitudes toward Apple," he said. Misek notes that fourth-quarter earnings may still have risks, but gross margins will allow the company "to skate by" until the larger-screen iPhone 6 is released.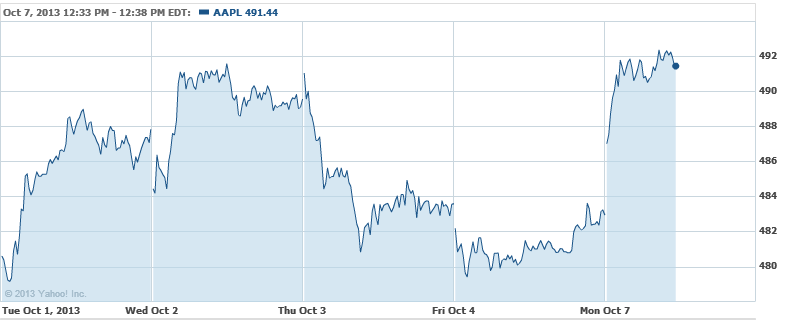 HSBC Holdings (NYSE:HBC): HSBC was found liable for $1.5 billion in claims. The HSBC unit formerly known as Household International Inc. lost its bid to overturn a 2009 securities fraud trial verdict and is liable for about $1.5 billion in damages plus interest. HSBC bought Household International in 2003 for around $15.5 billion.

Southwest Airlines Co. (NYSE:LUV): Southwest revealed that revenue passenger miles rose 1.3 percent in September to 7.9 billion and projects that passenger revenue per available seat mile increased between 7 percent and 8 percent for the period.

Noble Energy Inc. (NYSE:NBL): Noble announced that it brought the vast majority of its wells in the Denver-Julesburg basin that were shut following Colorado's severe flooding back online but is still looking at a fourth-quarter net production loss from the floods at 5,000 to 7,000 barrels per day, 80 percent of which will comprise liquids volumes, Seeking Alpha says.

Time Warner Cable (NYSE:TWC): Time Warner Cable has agreed to purchase DukeNet communications for $600 million. DukeNet will give Time Warner access to regional fiber optic network assets serving customers in North Carolina and South Carolina. The deal set to close in the first quarter of next year.

Don't Miss: Here's Why the Apple-Samsung Trial Might Get Awkward.