Mulally Is Staying With Ford, Privacy Groups Aren't Happy With Facebook: Market Recap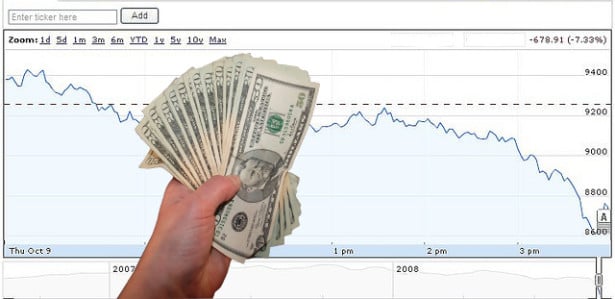 U.S. stocks stocks rose today, although the market was shaky in trading overall. Tensions over Syria weighed on the market while a poor jobs report raised hopes that the Fed will deem the U.S. economy isn't stable enough for it to end stimulus this month. The Labor Department report showed that employers only added 169,000 employees last month, far under economist expectations of 180,000.

Gold: +1.18% to $1,389.20 per ounce Oil: +1.65% to $110.16 per barrel U.S. 10-Year: -1.38 to 2.938%
Jobs Report: Here's Why the News Is Not So Great: In August, as in July, the employment situation fell short of providing convincing evidence that the labor market was returning to full health. The United States economy added fewer jobs than economists expected and the unemployment rate ticked down, largely as the result of job hunters dropping out of the labor force.
Are We There Yet? Plus Other Questions To Ask the Fed: "Modest to moderate." These are the adjectives that have been favored by economists at the U.S. Federal Reserve to describe the recovery to date. In the latest Beige Book — a summary of economic commentary gathered from the 12 Federal Reserve districts — eight districts characterized growth as moderate.
Service Sector Activity Surges to Post-Crisis Record: The services sector accounts for the majority of gross domestic product and much of the business activity is more relevant to investors. In particular, the highly watched Business Activity Index within the Report on Business can be used as an indicator of the overall health the services sector.
Here's your cheat sheet to today's top stocks stories: 
Apple (NASDAQ:AAPL) may be on the verge of of breaking its 4-inch smartphone screen barrier. Although Apple is debuting two new iPhone models with 4-inch screens next week, it appears the company is already planning to develop several iPhone models with larger displays.
Facebook Inc. (NASDAQ:FB) made headlines late last week when it proposed a rewrite of some of its legal documents regarding user privacy and advertising rights. According to Bloomberg, privacy groups are asking the Federal Trade Commission to keep Facebook from revamping its data use policies.
Ford (NYSE:F) CEO Alan Mulally told Bloomberg that he will stay on as the automaker's CEO until the end of 2014 after reports that the board would allow him to leave early, if he so desired, came out Thursday night. Reuters reported that Ford's board has become more comfortable with the idea of Chief Operating Officer Mark Fields taking over as CEO of the company and so told Mulally he could step down sooner than previously planned.
Disney's (NYSE:DIS) ESPN's eight-year contract with Dish Network (NASDAQ:DISH) is due to expire at the end of the month. This deadline is a major deal for the two companies because they both recently attracted a significant amount of media attention as they sparred over the rising cost of sports programming, contractual agreements, and Dish's "Hopper" digital video recorder that allows ad-skipping and automatic recording.
United Continental (NYSE:UAL) announced on Thursday it would recall the nearly 600 pilots the company put on furlough due to the ravaging effects of the recession and fuel price spikes, which forced the company to cut back on flights and staff in 2008 and 2009.
Are These 10 CEOs the Biggest Disappointments on Wall Street?: You don't always get what you pay for in corporate America. The chief executive officer position has now become synonymous with multimillion dollar paydays, and many firms are more than willing to award top executives with exorbitant pay packages, but are shareholders getting their money's worth?
Follow Jacqueline on Twitter @Jacqui_WSCS