Munster: Apple Is Catching Up to iPhone 5S Demand
Piper Jaffray analyst Gene Munster recently took a look at the resale value and availability of Apple's (NASDAQ:AAPL) iPhone 5S and concluded that the Cupertino-based company has started to catch up to consumer demand for the flagship iPhone. According to Munster's Apple Store supply checks, the availability of the various iPhone 5S capacities from all three carriers increased from 24 percent to 59 percent between November 11 and November 13.

The iPhone 5S is available in nine different SKUs: three different capacities from three different carriers. Munster noted that all of the 60 different Apple Stores that he checked had at least one SKU in stock and most stores had at least half of the SKUs available. The analyst also found that online lead times for the various iPhone 5S SKUs have dropped to one to two weeks from two to three weeks. This is dramatically lower than the one month online lead times for the iPhone 5S when it was first released in September.
Meanwhile, the U.S. resale value for the iPhone 5S has fallen below the suggested retail price. Munster noted that the overall increase in availability of the iPhone 5S and the below retail prices are both signs that Apple is beginning to boost the supplies of its flagship smartphone.
The Piper Jaffray analyst believes that the growing iPhone 5S supply is an "encouraging sign that Apple has begun to catch up to demand" and predicted that the iPhone 5S supply will hit its peak towards the end of the current quarter. "We believe that Apple will reach supply-demand equilibrium by early December, which would mean Apple is on track for a similar timeline compared to the iPhone 5," wrote Munster in a note to investors.
On the other hand, Munster's checks revealed that demand for the iPhone 5S is increasing in China. Munster noted that the resale value of the iPhone 5S in China has actually increased. Last month the iPhone 5S sold at a 28 percent discount in China, this month it is selling for a 15 percent discount.
Last month, Apple revealed that it sold a record 33.8 million iPhones during the September quarter. Although Apple did not break its iPhone sales down by model, the latest data from mobile app analytics firm Localytics showed that Apple's iPhone 5S accounted for 3.8 percent of the total active iPhones in the worldwide market. In contrast, the iPhone 5C accounted for only a 1.7 percent share. Here's how Apple has traded so far today.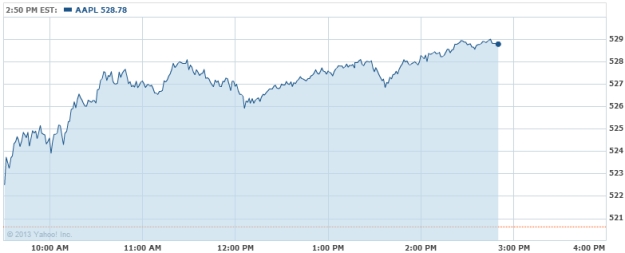 Follow Nathanael on Twitter (@ArnoldEtan_WSCS)
Don't Miss: Rumor: Apple's iWatch Design Different for Men and Women.