Munster: Apple's iOS and New Products Will Boost Stock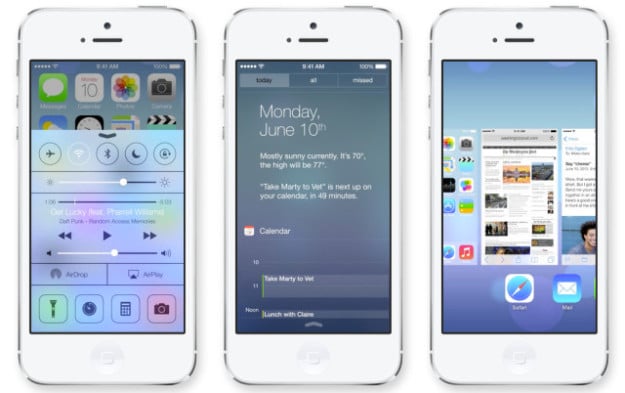 A new research note from Piper Jaffray's Gene Munster revealed that Apple's (NASDAQ:AAPL) iOS continues to account for the majority of mobile Internet traffic in the U.S. Using data from Quantcast's media measurement service, Munster determined that Apple's mobile operating system grew its market share from 60.6 percent in the last week of June to 65 percent in the last week of August.
"We see stability in iOS mobile traffic share as evidence that U.S. iPhone & iPad demand/usage remains strong despite the iPhone and iPad lineup nearing end of life," noted the analyst. Apple's last mobile product releases were the fourth-generation iPad and iPad mini in November 2012.
Munster pointed out three reasons why he believes Apple's iOS is continuing to dominate mobile Internet traffic stats despite Apple having not released any new mobile devices in almost a year. First, Munster highlighted to Apple's 50 percent-plus share in the June quarter at two major U.S. carriers: AT&T (NYSE:T) and Verizon (NYSE:VZ).
Second, the analyst believes "that iOS users are likely more engaged with their phones on a daily basis than Android users on average." Finally, Munster said that iPad usage likely boosted Apple's overall share of the mobile traffic market. According to IDC data, Apple led the worldwide tablet market in the second quarter of 2013 with a 32.4 percent share.
On the other hand, Google's (NASDAQ:GOOG) Android mobile operating system only accounted for 28.3 percent of mobile traffic at the end of June. Android also grew at a slower rate — by the end of August, it had only expanded its share to 30.2 percent.
All other operating systems lost market share during this period, shrinking from 11.09 percent in June to 4.66 percent in August. Quantcast bases its data on more than 1 billion unique page views per month in the U.S. market.
Munster reiterated his $655 price target and Overweight rating on Apple stock due to dominant iOS mobile traffic share as well as the growth potential from Apple's upcoming products. Munster cited the "iPhone 5S, cheaper phone, television, iPhone 6 larger screen, [and] watch," as future catalysts for a rising share price.
Here's how Apple closed out the trading week.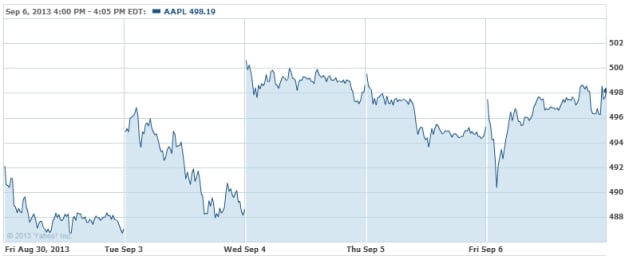 Follow Nathanael on Twitter @ArnoldEtan_WSCS
Don't Miss: Did Apple Give This Breaking Bad Fan a Rotten Deal?