Munster: 'Growing Positivity' for Apple's Products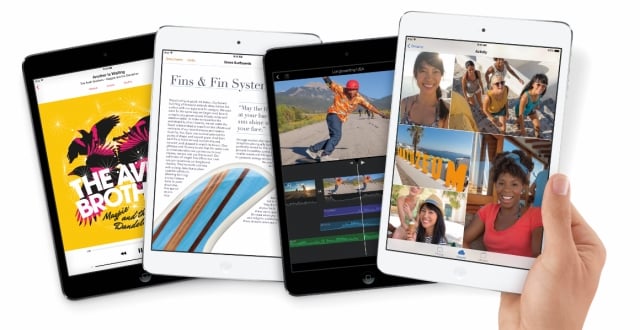 Piper Jaffray analyst Gene Munster recently examined the social media chatter about Apple's (NASDAQ:AAPL) new products and found that there is a "growing positivity" for the iPad Air and iPad mini with Retina display. Munster based his conclusion on a "sentiment analysis" of more than 1 million Tweets over the past three weeks.
According to his analysis, "the Air & Mini Retina are possibly the most well-received recent devices from Apple." Munster noted that positive consumer sentiment for the iPad Air during the 10-day period between the announcement and launch of the device was already high at 81 percent. However, after the iPad Air was released, the "positivity" of consumer sentiment grew to 85 percent.
On the other hand, the iPad mini with Retina display has already acquired an even higher positive sentiment rate. According to Munster, the iPad mini with Retina display has a positive sentiment rate of 86 percent, despite not even being available yet. Although the iPad Air has been available since November 1, the iPad mini with Retina display is not due to be released until "later in November." The analyst also noted that both of Apple's new tablets appear to be outpacing previous generations of Apple's devices for positive consumer sentiment.
Munster noted that the original iPad mini had a 76 percent positive consumer sentiment rate during its pre-release period last year. After it became available on November 2, 2012, the iPad mini's positive sentiment rate increased to 83 percent. Although the original iPad mini saw a bigger increase in its positive consumer sentiment rate after launch than the iPad Air did, Munster pointed out that the iPad Air also started from a higher base.
"Despite seemingly universal affection for Apple products already, we note that positive sentiment for Apple continues to grow as a whole," wrote Munster. Based on the "growing positivity" for Apple's latest devices, Munster predicted that future devices would likely receive a similar consumer reception. However, he also noted that the growth rate of positive consumer sentiment may be limited beyond the 90 percent level.
Besides examining the social media buzz around Apple's new tablets, the Piper Jaffray analyst also released another note to investors about Apple's future entry into the "connected home" market. Munster maintains an "Overweight" rating and a $640 price target on Apple stock. Here's how Apple has traded over the past five trading sessions.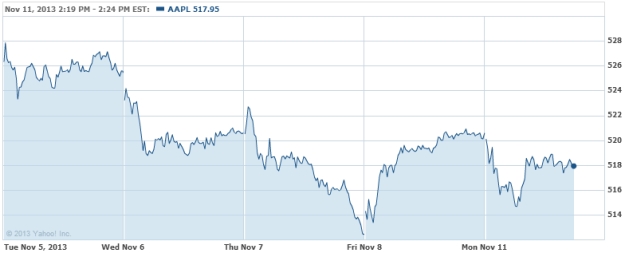 Follow Nathanael on Twitter (@ArnoldEtan_WSCS)
Don't Miss: Insider Sources: Apple Considered BlackBerry Purchase.