Music Leakers Have Nothing on Apple's iTunes Radio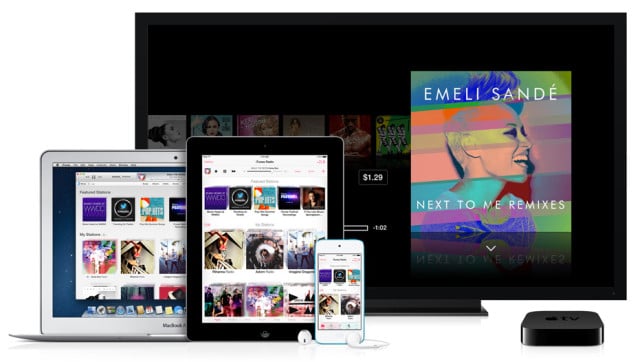 Apple (NASDAQ:AAPL) is benefiting from its new iTunes Radio in more ways than one, because not only is the tech giant now experiencing increased interest in its iOS 7 platform thanks to the streaming music option, it also is using the radio to help promote albums before their streaming debut on the iTunes store. In the past, artists' new songs and albums were kept under lock and key, tightly hidden from the public until their official release date.
These days, however, album leaks are everywhere, and many record labels are responding by choosing to stream albums ahead of their releases in order to better control the pre-showings. Now, according to Apple Insider, Apple is ready to take advantage of that reality, and it is gearing up to stream more albums ahead of their debuts on iTunes Radio in order to purposely enhance their discoverability. iTunes boss Eddy Cue explained to Entertainment Weekly Monday that Apple wants to take advantage of its new streaming power to ensure its customers know exactly when a new song is available and when a streaming album debuts.
Streams are known to have a significant impact on album pre-orders, and according to industry insiders, albums often experience a considerable bump in the pre-sales if they have a successful pre-debut streaming campaign. Apple Insider highlights Justin Timberlake's The 20/20 Experience and Daft Punk's Random Access Memories as two albums that have performed exceptionally well this year thanks to their streaming pre-releases, and the Cupertino, California-based company now plans to help perpetuate that success.
Cue also explained to Entertainment Weekly that Apple understands its users are much more likely to turn to iTunes Radio first before exploring the iTunes store. It is therefore more constructive to enable listeners to hear the music first on the radio so they can then head to the iTunes store to make their purchases. Cue maintained Monday, "It's a huge improvement to do it on iTunes Radio because you don't go to the store a lot. Hopefully lots of people will be listening to iTunes Radio a lot; from a discovery perspective it's significantly better.
That may be true, and it may be just what the music industry needs to help convince listeners to buy the albums via the iTunes store rather than solely relying on streaming radio platforms or illegal downloading websites to access the newest music. Apple makes it easy on its users — making a purchase only one click away —  and it hopes that iTunes Radio's ability to customize itself for its users will help both sides of the equation get the music and the business they want.
Don't Miss: Will There Be No New iPad Minis for Christmas?