New Apple TV Clues Found in iOS 7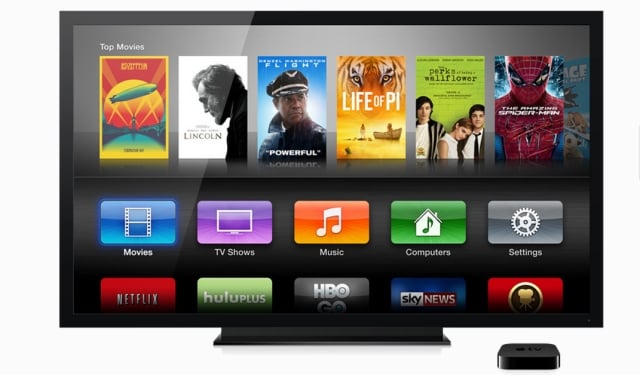 More evidence that Apple (NASDAQ:AAPL) will soon be releasing a revamped Apple TV device has been discovered. According to 9to5Mac and Apple researcher Hamza Sood, there is a string of text in the latest iOS 7 builds that references "AppleTV4, 1." This appears to be an indication that Apple is planning to release a next-generation set-top device. As noted by 9to5Mac, the "AppleTV4, 1" reference follows similar references to "AppleTV2, 1," "AppleTV3, 1," and "AppleTV3, 2." "Apple TV2, 1" is known to refer to a model introduced in 2010, while "AppleTV3, 1" refers to the 1080p high-definition model released in March of 2012. Finally, "AppleTV3, 2" refers to the current Apple TV iteration.
The "4" designation is significant because a new number strongly suggests that Apple's next digital media receiver will feature major hardware upgrades. Per 9to5Mac, the name also indicates that the next Apple TV will remain part of the recently delineated Apple TV product line.
There may also be additional proof that the upcoming Apple TV will provide game support. Apple news site iLounge previously cited "reliable industry sources" that reported that the new Apple TV would have a function that will allow users to directly download games to the digital media receiver. The sources also suggested that Bluetooth-enabled controllers were in development.
According to 9to5Mac, the latest software builds include tantalizing references to iOS 7's Game Controller framework, which suggests that game controllers could be linked to the new Apple TV. However, these references could also be vestiges from frameworks that were used for the iPod, iPhone, and iPad.
If the new Apple TV includes the rumored game support, it might also include motion-sensing control functions similar to what is found in Microsoft's (NASDAQ:MSFT) Xbox Kinect system. Last November, Apple acquired motion-sensing technology company PrimeSense. PrimeSense's 3D vision and gesture technology is used in Microsoft's Xbox 360 Kinect system and allows the device to distinguishes users with its face-recognition capabilities, as well as interpret their gestures. This technology could be used for playing video games or as a gesture-based control system for the Apple TV.
Although rumors about an Apple television have been circulating ever since Steve Jobs discussed the idea with his biographer, the latest evidence appears to suggest that Apple is entering the television arena by upgrading its Apple TV device with additional functionalities. Apple CEO Tim Cook has repeatedly promised that Apple will unveil new products and new product categories this year. Although Cook offered no timeline for new product introductions, 9to5Mac noted that Apple has previously introduced Apple TV upgrades during the month of March.
Follow Nathanael on Twitter (@ArnoldEtan_WSCS)
More From Wall St. Cheat Sheet: