New Apple TV Hardware Rumors Have Been Rebooted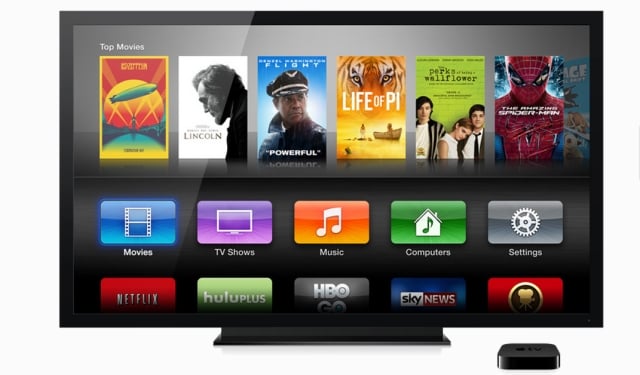 After Apple (NASDAQ:AAPL) failed to announce an anticipated software upgrade for Apple TV at this week's media event, some observers pointed to September 18 as the next possible software release date. However, a recent tweet from technology industry commentator MG Siegler suggests that Apple TV users may be in for more than a simple software upgrade by the time October rolls around, reports Apple Insider.
"I guess those excited about a software refresh in a week are gonna be *really* excited when new Apple TV hardware is unveiled next month," tweeted Siegler. The commentator's tweet reignited rumors that Apple will soon be releasing a new version of its digital media receiver.
Speculation about a possible Apple TV product refresh began after GigaOM reported earlier this month that global trade intelligence platform Panjiva had discovered multiple bills of lading that described shipments of "Set Top Boxes." Rumors of an imminent Apple TV refresh were further bolstered when Apple Insider noted that the Online Apple Store was no longer offering refurbished Apple TVs for sale. Stock shortages can often be indications that Apple is gearing up to release a new iteration of a product.
However, unnamed sources cited by AllThingsD later dismissed the rumors of a new Apple TV device. Rather than releasing new Apple TV hardware, AllThingsD's sources believed that Apple would instead release a software upgrade that would include several new user-friendly features. However, it now appears that Apple watchers may have to reconsider the so-called "Set Top Box" shipments that were uncovered by Panjiva. As reported earlier, Apple received three separate shipments described as "Set Top Boxes" and "Set Top Box with Communication Function."
Apple has recently been focusing more attention than ever on the TV product that Steve Jobs once called "a hobby." For example, earlier this year Apple added channels from Sky News, CrunchyRoll, Qello, and Vevo.  The Cupertino-based company is also rumored to have entered into direct negotiations with content providers such as Disney's (NYSE:DIS) ESPN, Time Warner's (NYSE:TWX) HBO, and Viacom (NYSE:VIA).
With the increasing popularity of Internet-based content viewing, it may not be long before Apple's unassuming digital streaming device become a major source of revenue for the company. Here's how Apple has traded over the past five days.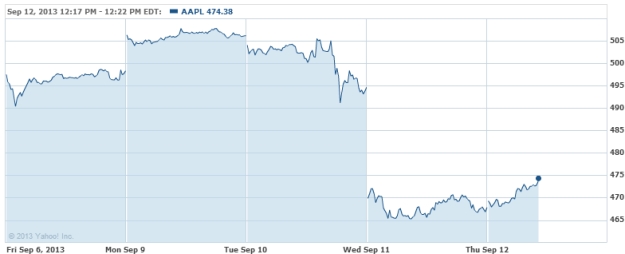 Follow Nathanael on Twitter (@ArnoldEtan_WSCS)
Like us on Facebook to get the latest from Wall St. Cheat Sheet in your News Feed.
Don't Miss: Is Everyone Wrong on the Apple Pessimism?