New 'Coin' Payment Device Works With Apple's iPhone
A Silicon Valley startup has developed a reprogrammable card called "Coin," that could provide the foundation for a future iPhone-based payment system for Apple (NASDAQ:AAPL) users. As reported by Apple Insider, Coin is equipped with a reprogrammable magnetic strip and a lithium battery that allows it to store up to eight cards in its memory.
Cards can be removed or installed on Coin via a device that plugs into your Apple iPhone or other smartphone. Users simply swipe and take a picture of the cards they wish to install on Coin with the provided app. Although the Coin app can hold an unlimited number of cards, the device itself can only store eight cards at a time.
As seen in the video below, users can toggle between the various cards stored on Coin by tapping a button on the device.  The expiration date, the CW number, and the last four digits of each card are displayed via an e-ink screen. As noted on Coin's website, the device will store "debit cards, credit cards, gift cards, loyalty cards, and membership cards."
Coin utilizes a Bluetooth-enabled security system that alerts a user if the device is separated from their iPhone. Apple already uses Bluetooth for its iPhone, iPad, and iPod touch. Apple also began using the Bluetooth Low Energy, or Bluetooth LE, variant of this wireless protocol for the iBeacon communications standard that was introduced as part of iOS 7.
As noted on Coin's website, Bluetooth LE is designed to use very little power. The makers of Coin estimated that most users will get two years of usage from their device before the battery needs to be replaced.
According to the Coin's website, the device will also automatically deactivate itself if it loses contact with a user's phone for a period of time that you determine. However, users can also opt out of this security feature. Coin is scheduled to begin shipping in the summer of 2014 and will retail for $100. However, a limited number of early adopters can purchase the device for $50. Here's how Apple has traded over the past five trading sessions.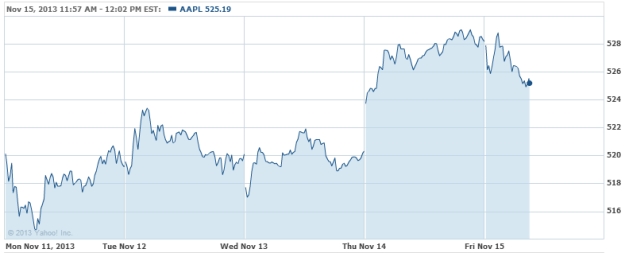 Follow Nathanael on Twitter (@ArnoldEtan_WSCS)
Don't Miss: Apple's Siri May Soon Be Asking You Questions.