New iPhone Rumors: Larger Screens, Multiple Colors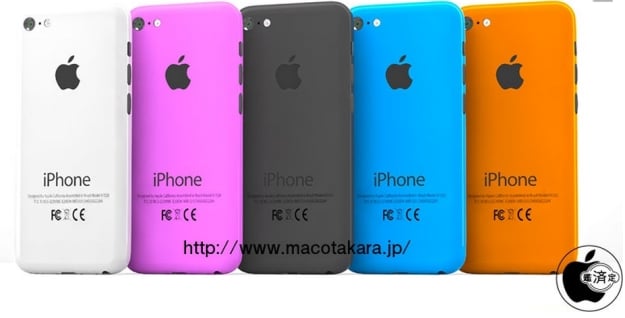 Is Apple (NASDAQ:AAPL) considering making an iPhone with a larger screen as well as a low-cost version in multiple colors? According to anonymous industry sources, Apple is looking into making iPhones with a 4.7-inch and 5.7-inch screen reports Reuters. The Cupertino-based company is also in the process of developing 5-6 different colors for a low-cost plastic iPhone stated the supply chain sources.
If the rumors are true, this would mark Apple's first foray into the phone-tablet hybrid market that was started by Samsung (SSNLF.PK) with its line of Galaxy Note "phablets." Phablets are especially popular in the Asian market and some analysts have urged Apple to exploit this market by releasing its own large-screen smartphone.
However, the sources also noted that Apple's interest in producing a larger iPhone may not necessarily lead to the production of the device. One anonymous source told Reuters, "They constantly change product specifications almost to the final moment, so you're not really sure whether this is the final prototype."
The low-cost iPhone is expected to debut this year alongside the iPhone 5S that will feature a new fingerprint sensor. The sources said that the low-cost iPhone may retail for $99 and would help Apple compete in emerging markets like India and China. The sources also indicated that the cheaper iPhone would debut in September and that 20 million units would ship in the October-December quarter.
According to the Japanese blog MacOtakara, the low-cost iPhone will be available in white, pink, black, blue, and orange colors. The site also stated that Apple's iPhone 5S will be available in a gold color. This rumor seems to line up with previously leaked photos of a beige or gold-colored iPhone 5S SIM tray.
Apple CEO Tim Cook sparked speculation about future multiple models of the iPhone at this year's All Things D conference. When an interviewer asked Cook why Apple doesn't have multiple iPhone models like it does for the iPod, Cook responded, "We haven't so far. That doesn't shut off the future."
Follow Nathanael on Twitter (@ArnoldEtan_WSCS)
Don't Miss: Dan Frommer: iOS 7 Is the Fresh Start Apple Needed.