Newly Published Apple Patent Reveals Tech Behind Touch ID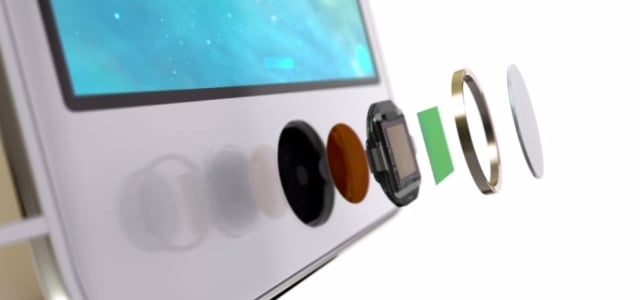 A patent covering Apple's (NASDAQ:AAPL) Touch ID fingerprint scanner has recently emerged online after being published the United States Patent and Trademark Office, reports Apple Insider. In the patent titled, "Capacitive Sensor Packaging," Apple describes a fingerprint scanner that is very similar to the Touch ID technology currently found in the iPhone 5S.
Although Apple has previously filed other patents covering various types of fingerprint scanning methods, the previous patents covered technologies that were slightly different from what was eventually implemented in the iPhone 5S. For example, a patent published this past summer focused on separating the "finger sensing integrated circuit" from the "finger sensing area." Previously published patents have also mentioned embedding the fingerprint sensor into the touchscreen display.
A European patent uncovered by Patently Apple in September outlined another fingerprint sensing technology that was slightly different from what was implemented in the iPhone 5S. According to Patently Apple, the European patent covered a fingerprint sensor technology that also included a NFC (near field communications) receiver and an optical transmitter.
However, the fingerprint scanner technology described in the latest patent appears to most closely resemble the fingerprint sensor that was incorporated into the iPhone 5S. One embodiment of the technology described in the newest patent even mentions a fingerprint scanner "wherein the button comprises a sapphire lens." The exploded view of the fingerprint scanner in the patent illustration also closely resembles an exploded view of the Touch ID seen on Apple's website.
Besides outlining the fundamental fingerprint scanning technology found in the Touch ID system, the patent describes using "optical sensing or infrared sensing in addition to capacitive sensing, to assist or be included in the fingerprint recognition sensor circuit." The patent also describes methods that were not implemented in Apple's current Touch ID system, such as "disposing the fingerprint recognition circuit over a touch-responsive push button to provide tactile feedback."
Although the new patent mostly describes fingerprint scanner technology that is very similar to what was eventually implemented by Apple, it also mentions a fingerprint scanner that would be placed behind the "display element." As noted by Apple Insider, this leaves open the possibility that Apple may still one day incorporate future fingerprint scanners into a device's display. Some analysts have speculated that Apple may be planning to release even more Touch ID-enabled devices in 2014. These rumors were recently bolstered when the Cupertino-based company announced a partnership with sapphire crystal manufacturer GT Advanced Technologies (GTAT).
Here's how Apple has traded today.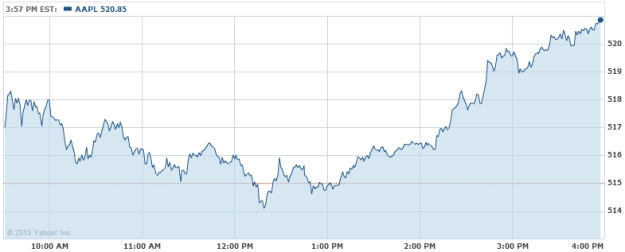 Follow Nathanael on Twitter (@ArnoldEtan_WSCS)
Don't Miss: Carriers Feel iPad Mini With Retina Display Supply Pinch.