News Corp. Reaches Settlement, Microsoft's Got Apps: Market Recap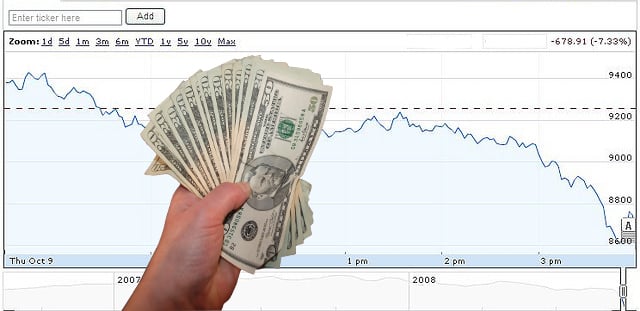 U.S. stocks rose today, rebounding from falls earlier this week brought on by fears that the Federal Reserve would end stimulus soon. The S&P 500 had its biggest three-day rally since January after the Fed said it would not end stimulus until the last few months of this year, if that soon. The rise was also bolstered by increases in consumer spending and home purchases.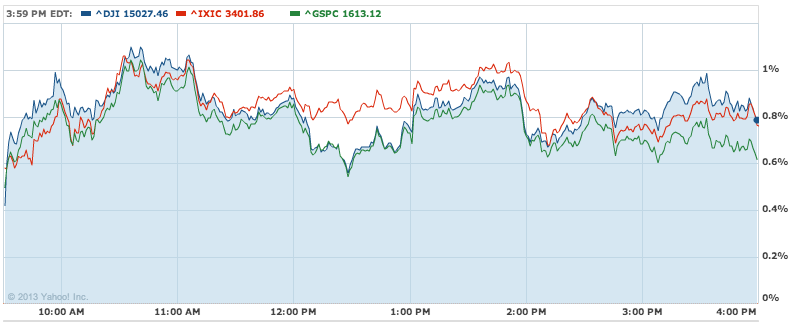 Gold: -2.47% to $1,199.20 per ounce Oil: +1.46% to $96.89 per barrel  U.S. 10-Year: -2.21 to 2.483%
Report: Americans Are Short on Skilled Labor: A new study shows that Americans are short on skills, a grim reality in a job market that's expected to grow more complex and technical as time goes on. There is an estimated worker shortfall of 20 million in fields demanding advanced skills in science, math, and healthcare, among others, and the problem isn't expected to get better soon. In fact, it's a problem that has been around for a while… (Read more.)
Is the Economic Recovery Not Quite Real?: Though the stock market has never been a true proxy for the state of the economy, the degree to which today's financial markets are decoupled from reality is astonishing, and it increasingly appears to be the result of some sort of collective cognitive dissonance toward bad news… (Read more.)
Economic Fears Continue, But Employment Figures Stand Strong: Unemployment may be still "elevated" as the Federal Reserve says, but the broader trend is heading lower for initial claims for unemployment benefits. Smaller reductions in staff indicated that employers are confident enough that consumer demand and optimism will be sustained as the housing market improves, and bigger gains in sales will likely encourage companies to increase hiring, helping to reduce the unemployment rate… (Read more.)
Here's your cheat sheet to today's top stock stories: 
BlackBerry's (NASDAQ:BBRY) earnings report is due to come out on Friday, and nobody's quite sure what to expect. Though many analysts have offered forecasts of how the company's new breed of BlackBerry devices are shipping around the world, their predictions are quite scattered. While some only believe the quarterly shipments will come to 2.75 million, others are more optimistic with 4 million… (Read more.)
Dish Network (NASDAQ:DISH) has dropped out of the race against Sprint Nextel Corp. (NYSE:S) for Clearwire Corp. (NASDAQ:CLWR) after Clearwire investors backed Sprint's $5 per share bid. The news is surprising. After Dish lost its bidding war with SoftBank (SFTBY.PK) for Sprint, many thought that Dish would turn its full focus to acquiring the half of Clearwire that Sprint doesn't already own… (Read more.)
Apple's (NASDAQ:AAPL) newest TV commercials have flopped. But does the failure reflect the company's overall struggle to find its bearings during a period without any new products? The so-called "Designed by Apple in California" advertisement has scored well below average with viewers according to Ace Metrix, a consulting firm that uses consumer surveys to analyze the effectiveness of TV commercials reports Bloomberg… (Read more.)
Discovery Communications (NASDAQ:DISCA) founder and executive chairman John Hendricks said the network is planning an Internet streaming service that will give subscribers access to programming between three and eighteen months old. Some of Discovery's programming is already available on Netflix (NASDAQ:NFLX), but only shows that have been out for eighteen months or longer… (Read more.)
Microsoft (NASDAQ:MSFT) Chief Executive Officer Steve Ballmer expects the Windows Store to pass the 100,000-app mark by the end of this month. The company's CEO made the announcement to more than 6,000 attendees and 60,000 web viewers while demonstrating Windows 8.1 at the annual Build Conference in San Francisco on Wednesday… (Read more.)
General Motors (NYSE:GM) might be unfamiliar with playing the role of knight in shining armor, but the U.S. automaker might be close to adopting that position if a deal with PSA Peugeot Citroen's founding family eventually comes to fruition. As the French car manufacturer continues to struggle, it will likely try to revive plans for a potential tie-up with GM's European OPEL division so as to avoid complete dissolution… (Read more.)
News Corp. (NASDAQ:NWSA) is one step closer to distancing itself from a phone-hacking scandal after a Delaware judge on Wednesday approved a $139-million cash settlement between the company and its shareholders. The case was settled without News Corp. admitting any wrongdoing. "We are pleased to have resolved this matter," the company said in a statement… (Read more.)
Don't Miss: Report: Americans are Short on Skilled Labor.
Follow Jacqueline on Twitter @Jacqui_WSCS