No Agreement Reached in Apple-Samsung Mediation Meeting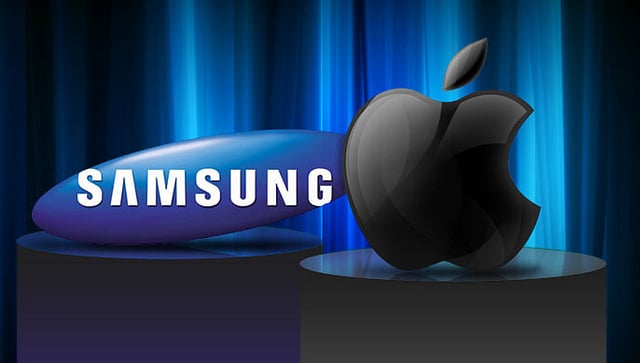 It appears that the long-running patent-infringement dispute between Apple (NASDAQ:AAPL) and Samsung (SSNLF.PK) is destined to return to the courts. According to unnamed sources cited by ZDNet Korea via Apple Insider, the two tech rivals were unable to reach an amicable solution to their ongoing legal battle in a court-ordered mediation meeting. Apple and Samsung had agreed to meet on or before February 19, ahead of their next patent-infringement trial scheduled in March, according to a court filing seen by Reuters. Per the agreement, the meeting was supposed to be attended by each company's in-house lawyers, as well as Apple CEO Tim Cook and Samsung CEO Oh-Hyun Kwon.
However, according to ZDNet Korea, Cook met with Samsung mobile division chief JK Shin. "We can't confirm whether the two CEO met, or if they did, what the results were," said a Samsung spokesperson via ZDNet Korea.
The two smartphone rivals have been engaged in various legal battles in courtrooms around the world ever since Apple filed a patent-infringement lawsuit against Samsung in the spring of 2011. Last November, Apple won a major victory against Samsung in the U.S. when a California jury ruled that the Korea-based company must pay the iPhone maker more than $290 million in damages over thirteen products that were found to be infringing on five of Apple's patents. Along with the damages award from a previous trial, Samsung now owes Apple approximately $930 million.
Apple and Samsung are scheduled to begin another patent-infringement trial over a different set of Samsung devices on March 31. Like the previous patent-infringement trial, the upcoming trial will also be presided over by U.S. District Judge Lucy Koh.
As reported by Foss Patents, Judge Koh recently denied "judgment as a matter of law" motions, or JMOL motions, that were submitted by both companies over the patent-infringement trial from last November. The denial of the motions brings the last damages trial closer to a final conclusion, which means Samsung may soon be forced to pay Apple the $930 million damages award.
The upcoming trial will focus on several newer Samsung devices. It should be noted that the devices targeted in the last patent-infringement trial are no longer sold by Samsung.
As noted by Apple Insider, both Samsung and Apple have named SVP of Worldwide Marketing Phil Schiller on their pretrial lists of expert witnesses. According to Samsung's list of witnesses filed with the court, "Mr. Schiller will be called to testify regarding design, development, promotion, marketing, advertising, consumer demand for, and sales of the iPhone, iPad, iPod, and other Apple products, including the features accused of infringing the Samsung feature patents, the smartphone and tablet markets, the Apple brand and Apple's marketing and advertising efforts."
Former Apple senior vice president of iOS software Scott Forstall is also listed by Samsung as a "Witness Samsung May Call By Deposition." According to Samsung's court filing, "Mr. Forstall may testify regarding Apple's implementation, use, promotion and advertising of and consumer demand for smartphone features including those accused of infringing Samsung's feature patents."
Follow Nathanael on Twitter (@ArnoldEtan_WSCS)        
More From Wall St. Cheat Sheet: