No More Subsidies for Apple?
Much of Apple's (NASDAQ:AAPL) success in the U.S. depends heavily on carriers subsidizing their high-end phones, but will this soon be a thing of the past? While others have yet to follow suit, T-Mobile USA, a subsidiary of Germany's Deutsche Telekom (DTE.DE) will be offering interest-free financing this year instead of subsidizing smartphones. AT&T (NYSE:T) CEO Randall Stephenson approves, and adds, "It's something we're going to be watching."
According to The Wall Street Journal, smartphones now account for a full 89% of contract phone sales in the U.S., and more users are getting their hands on iPhones than ever before thanks to Apple allowing carriers to sell discounted older models.

However, market conditions are changing. ABI Research reports that Apple's annual shipment growth was just 46% in 2012, down from 96% in 2011. As mobile devices senior analyst Michael Morgan observes, "Unless Apple is willing to trade iPhone margins for low cost iPhone shipments, Apple's handset market share will become dependent on customer loyalty."
Apple is now offering songs for just 28 cents (15 rupees) in India, with the recent launch of a heavily discounted version of iTunes. Siddhartha Roy, COO of Indian music licensing company Hungama Digital Media Entertainment, says, "Apple kept the Indian consumer in mind when determining their pricing here. India is just starting on the digital commerce space, and this will likely serve as as an entry into a lot of other products for Apple."
The tech giant has also been beefing up their advertising and negotiating with regional electronics distributors in India, where they're currently a less-than-stellar 10th on the smartphone sales chart. Some even speculate that Apple is working on a lower-end iPhone specifically geared towards international markets.
There's no doubt that there's huge global demand for cheap smartphones. How will Apple respond to these changing market pressures?
Here's how Apple has traded so far in 2013: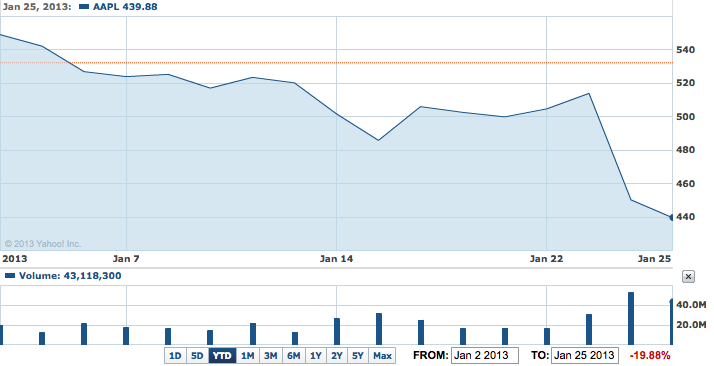 Don't Miss: Is Apple Fixing Its Labor Problems?