Nokia: Mapping Its Way to the Connected Car Finish Line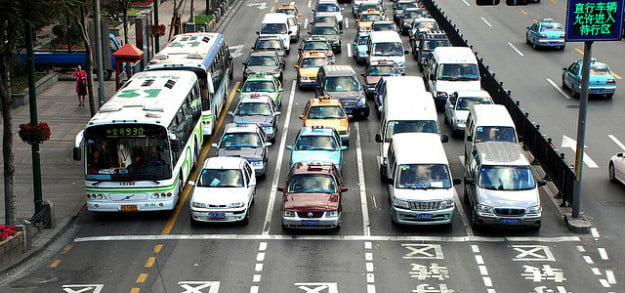 In today's day and age, automakers and tech giants are teaming up in ways they never have before — and with new cars hitting the markets and the the spin of technology constantly evolving, it's no longer a question of whether connected cars will ever exist, but rather, who will get there first?
Nokia Corporation (NYSE:NOK) is one of the main tech contendors in the race to the connected car finish line, joining bitter rivals, including Apple (NASDAQ:AAPL) and Google (NASDAQ:GOOG). Sooner rather than later, the Finnish handset maker would like to see a Nokia-powered car, but before it does, it will have to win over automakers.
Luckily for Nokia, the tech giant already has a connection to the auto industry that others don't — its maps. The company supplies maps through navigation systems via its Navteq group, and according to a recent report by Gigaom, its planning on using these connections to help it win over automakers who might have previously turned to Apple or Google for their sophisticated tech needs.
Nokia already has a comfortable relationship with car manufacturers, mostly because it's not threatened by the company. While partnering with Google puts automakers at risk for ultimately losing control of the connected car and having to submit to the Mountain View, California-based tech giant, Nokia doesn't pose any risk to its automakers.
It already knows that Nokia can sell them maps, and they can then sell those to the public, thus another partnership shouldn't be a tough sell for these car manufacturers. Nokia is hoping to take advantage of that trust.
That's why Nokia EVP of Location and Commerce Michael Halbherr explained to Gigaom Tuesday that his company is now ready to take the content it supplies to the automotive industry to the next level. This time around, Nokia's content won't be in the form of maps, but rather, something more along the lines of autonomous vehicle technologies that allow cars to direct their passengers to their destinations via the fastest, safest, and most fuel-efficient routes.
Still, Halbherr maintains that this technology is still very much in its future planning stages as tech companies and automakers still need to iron out details involving larger transporation and "smart city networks," along with a whole hosts of other details. However, for now, Nokia remains in its intial planning stages and is working to ensure that automakers will eventually bite on its new tech bait.
While much of Nokia's energy still revolves around the company's initial map application, that is what it believes will ultimately facilitate a connected car. Gigaom explains that a connected car's map is what will allow it to recognize its location, and the location of those objects around it — driving the vehicle's ultimate ability to, well, drive itself.
Halbherr is steadfast in his belief that not many companies can deliver the map that Nokia can, and that is why he is confident his company will eventually be able to realize victory in the rigid connected car market.