Nokia Releases New Phone, Microsoft Undergoes Shake-Up: Market Recap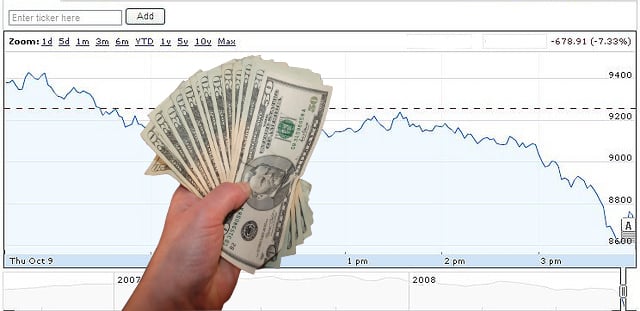 U.S. stocks closed way up, with the Dow and the S&P 500 setting new highs by the end of trading on Thursday. Stocks are rising after Federal Reserve Chairman Ben Bernanke said it's too soon to for the Federal Reserve to end the stimulus, soothing investor panic about the end of qualitative easing. Stocks made gains despite disappointing news from the Labor Department showing that jobless claims rose 16,000 from last week.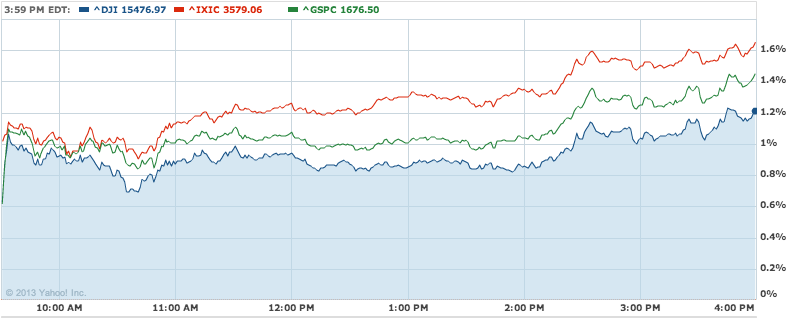 Gold: +2.93% to $1,284.00 per ounce;  Oil: -1.61% to $104.80 per barrel;  U.S. 10-Year: -3.96 to 2.574%
These Jobless Claims Numbers Shocked Economists: The number of Americans filing applications for initial jobless benefits rose unexpectedly to a two-month high last week. The Bureau of Labor Statistics reported that first-time claims increased 16,000 to 360,000 in the week ended July 6, up from a revised 344,000 in the previous week. Economists had predicted a drop to 340,000 new claims… (Read more.)
Import and Export Prices Decline: Is Deflation Outrunning the Fed?: With U.S. monetary policy in the spotlight, many investors and market participants have their eyes glued to the same economic indicators that the U.S. Federal Reserve is watching: unemployment and inflation… (Read more.)
OECD: Inflation Not a Threat to Global Economy: Inflation is of varying concern depending on the part of the world, but the Organization for Economic Cooperation and Development reported late last month that wages outpaced productivity in the developed world, a feature that indicates low inflationary pressures… (Read more.)
Here's your cheat sheet to today's top stock stories:
Apple Inc.'s (NASDAQ:AAPL) iPad may help shield the company from a predicted downfall in PC sales worldwide. Global PC shipments declined by almost 11 percent in the second quarter of 2013, according to the latest statistics released by market research firm Gartner. The PC industry continues to die a slow death as tablets increasingly replace desktops as the primary consumption device… (Read more.)
Nokia (NYSE:NOK) released a new phone Thursday. The company is banking on its new Lumia 1020 smartphone to revitalize its image and regain some share in the ultra-competitive smartphone market. The most impressive aspect of the new phone is its camera, which Nokia says is the most advanced smartphone camera on the market… (Read more.)
GlaxoSmithKline (NYSE:GSK) employees in China have been found guilty by Chinese authorities of bribing doctors in the country to prescribe the company's drugs. China's Ministry of Public Security released a statement Thursday claiming that GlaxoSmithKline employees were offering doctors money, education credits, and other perks in return for prescribing the company's medicines… (Read more.)
Microsoft (NASDAQ:MSFT) announced Tuesday what many would call a reorganization and what CEO Steve Ballmer described as a "far-reaching realignment of the company that will enable us to innovate with greater speed, efficiency and capability in a fast changing world"… (Read more.)
Google Inc.'s (NASDAQ:GOOG) Motorola (NYSE:MSI) Mobility unit will unveil its first flagship smartphone since being acquired by Google this fall, and the tech giant planning to spend $500 million marketing the device as a challenge to Apple (NYSE:AAPL) and Samsung's (SSNLF.PK) duopoly on the smartphone market… (Read more.)
Amazon (NASDAQ:AMZN) Prime subscribers will notice a dramatic increase in the selection and range of hit movies available for viewing via the company's instant video streaming service today. Amazon has expanded its non-exclusive licensing deal with Miramax that was originally struck in 2011… (Read more.)
Don't Miss: Will Nokia's New Smartphone Measure Up to Its Rivals?
Follow Jacqueline on Twitter (@Jacqui_WSCS)