Nokia's New Android Phone: Normandy — Wait, What?
Nokia (NYSE:NKE) is rumored to be building its own Android phone. It is codenamed Normandy. Surprised? Confused? We don't blame you. Nokia announced in September that it was selling its handset business to Microsoft (NASDAQ:MSFT), and now insider sources say it is crafting a new phone, powered by Android. Something isn't lining up here.
Nonetheless, The Verge reported Tuesday that the Finland-based tech giant is in advanced stages of building its new handset that is designed as the next step in low-end phones. The Verge explains that "Normandy" has been tested as a special "forked variant" of Android that's not aligned with Google's (NASDAQ:GOOG) own version, and it likens Nokia's approach to what Amazon (NASDAQ:AMZN) does with its Kindle Fire line.
This isn't the first time we've heard of Normandy, as @evleaks already tweeted out a picture of a Lumia-like device with the blurb: "A real Asha. Or Lumia? The Nokia Normandy," but Nokia has yet to confirm any rumors and critics are still slow to believe that the smartphone maker could be developing an Android-powered phone as Microsoft prepares to acquire the business.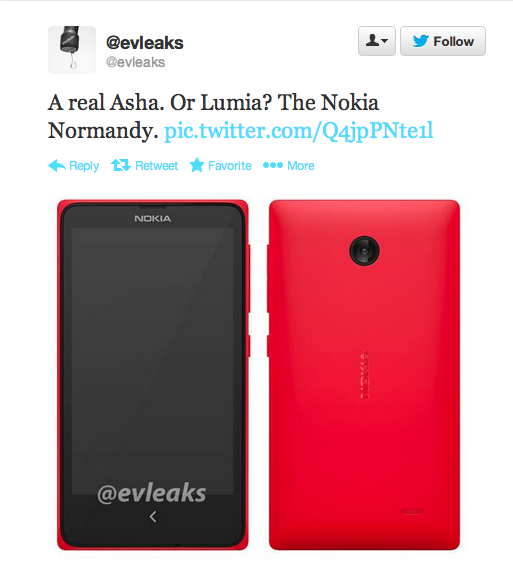 Rumors still report, though, that Normandy supports Android applications like Skype, and Nokia could release the handset before the Microsoft deal is settled. It is even possible that Microsoft knows about the device and is included in its development, but one would imagine that if that were the case, the Washington-based tech giant would be more interested in Nokia employing its own Windows Phone operating system rather than Android's.
Nokia is known for targeting cost-conscious consumers who aren't interested in paying the high prices companies like Apple (NASDAQ:AAPL) and Samsung (SSNLF.PK) now demand, and sources say that Normandy will also be a low-cost device, but it will have access to more traditional smartphone apps. This reflects a strategy change on the part of Nokia as it suffers slow sales of its Series 40-powered Asha line, and Normandy could reflect the company's readiness to employ a different technique: taking a page from Amazon's book and customizing Android for its own use.
Rumors point to a 2014 release for the new Nokia device, meaning Normandy could see the light of day before Nokia hands over the reigns to Microsoft, but it is still unclear how the launch — if there is a launch at all — could go down, and with the management changes at Microsoft, everything now especially seems up in the air. Normandy could serve as Nokia's last-ditch effort, its welcoming present to Microsoft, a combination of the two, or it could be all just a fabrication. Only time will tell.
Don't Miss: 10 Greenest Tech Companies in the U.S.