'Nope': Apple TV Rumors Shot Down by Prominent Commentator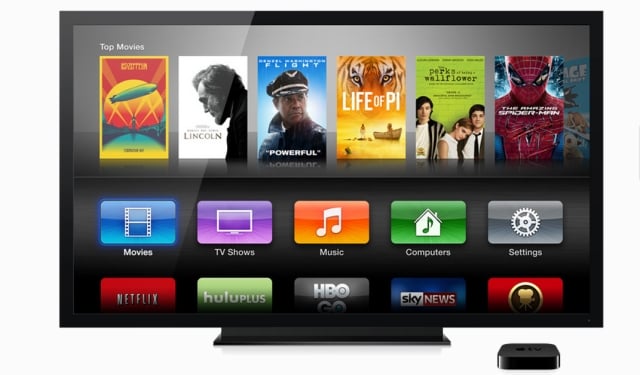 Rumors that Apple (NASDAQ:AAPL) is preparing to launch a successor to the current Apple TV device have recently been gaining steam. Insider sources cited by 9to5Mac last month indicated that the California-based company was already testing a new Apple TV device with a reworked operating system and expanded content options. Similarly, unnamed sources cited by iLounge suggested that the new Apple TV would include game support and possibly even a gesture-based control system that used the technology gained from Apple's recent acquisition of motion-sensing technology company PrimeSense.
The rumors were further fueled by CEO Tim Cook's recent comments that highlighted the company's success with the Apple TV product at the annual shareholders meeting. As reported by Recode, Cook announced that Apple made over $1 billion in revenue from Apple TV sales in fiscal 2013, including content sales via the set-top device. "It's a little more difficult to call it a hobby these days," noted Cook according to Reuters.
The rumors of an upcoming Apple TV refresh appeared to be further substantiated by the news that Apple was promoting the sale of its current Apple TV device with a $25 iTunes gift card offer. Apple TV already sells for the relatively low price of $99, which led some industry watchers to speculate that Apple may be trying to clear out its current Apple TV inventory in order to make room for a new iteration.
However, well-connected Apple watcher Jim Dalrymple recently deflated Apple TV fans' hopes with his typical pithy response to inaccurate industry rumors. "Nope," wrote Dalrymple via his blog, The Loop. Dalrymple's succinct comment was a direct response to a recent Los Angeles Times story that stated, "For the next week, customers who buy an Apple TV at one of the tech giant's retail stores will reportedly receive a $25 iTunes gift card as part of a promotion that could signal a new Apple TV is on its way."
It should be noted that Dalrymple has a fairly good record when it comes to dispelling inaccurate Apple rumors. The tech commentator previously shot down last year's rumors about a dedicated Apple game controller and the debut of new iPads at the iPhone launch event.
On the other hand, Dalrymple's response does not necessarily mean that a new Apple TV is not in development. His response may simply indicate that a new Apple TV will not be unveiled within the next several months, or that the current sales promotion is unrelated to the upcoming Apple TV launch. The Los Angeles Times report that Dalrymple responded to had suggested that the new Apple TV could arrive as early as April.
Apple's rumored Apple TV plans may have been derailed by Comcast's (NASDAQ:CMCSA) recently announced merger with Time Warner Cable (NYSE:TWC).  According to the Wall Street Journal, Comcast was one of the content providers that Apple was having difficulties with in its effort to acquire more content for Apple TV.
Here's how Apple traded on Friday.
Follow Nathanael on Twitter (@ArnoldEtan_WSCS)
More from Wall St. Cheat Sheet: