Not Again! Apple Named in Another Antitrust Lawsuit

Apple (NASDAQ:AAPL), Google (NASDAQ:GOOG), Adobe (NASDAQ:ADBE), and Intel (NASDAQ:INTC) are facing a class action brought by thousands of employees over an alleged anti-poaching conspiracy, reports Bloomberg. According to the lawsuit, Apple and the other defendants conspired to not poach employees from each other's companies, thereby limiting the employees' job options and salary potential. If proven, this would be a violation of federal antitrust laws.
U.S. District Judge Lucy Koh denied the original request for class certification in April because she believed that the plaintiffs had not sufficiently demonstrated that their lawsuits had enough in common to allow them to sue together. However, additional evidence introduced since then has convinced Judge Koh that many employees were likely affected by the same anticompetitive behavior.
Apple and the other accused companies tried to argue against class-action certification at a hearing on August 8. "They need to show that the wage structures were so rigid that they would've affected all or nearly all of the class," said Robert Van Nest, a lawyer for the defendants. "They have absolutely failed to do that."
According to Bloomberg, the claims made by the employees in this lawsuit are similar to the ones made in a 2010 U.S. Department of Justice probe of Apple, Google, Adobe, Intel, Intuit (NASDAQ:INTU), and Disney's (NYSE:DIS) Lucasfilm and Pixar units. However, Intuit and Disney's units have since settled the antitrust charges with the Justice Department.
As reported by Reuters, the 2010 Justice Department probe also revealed incriminating emails that former Apple CEO Steve Jobs had written to Google's Eric Schmidt. In the emails, Jobs requested that Google stop its efforts to hire an Apple engineer.
The current class action lawsuit covers approximately 66,000 employees. The case is being heard in U.S. District Court, Northern District of California. Here's how Apple has traded over the past five trading sessions.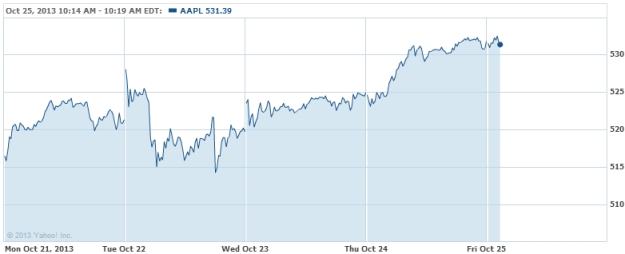 Follow Nathanael on Twitter (@ArnoldEtan_WSCS)
Don't Miss: Munster: Here's What to Expect At the Apple September Quarter Earnings Announcement.