Numbers Game: Apple's Unbelievable iTunes Download Stats
After years without providing updated video download statistics for its iTunes Store, Apple (NASDAQ:AAPL) finally gave users a peek when it revealed the movie and television show download rates for its iTunes store via a press release. Apple states that, "iTunes users have downloaded more than one billion TV episodes and 380 million movies from iTunes to date, and they are purchasing over 800,000 TV episodes and over 350,000 movies per day."
Using this newly available information, renowned Apple analyst Horace Dediu at Asymco has calculated that Apple users are spending about $1.75 billion a year on iTunes videos. This means that each of the 575 million iTunes users spends about $4 a year on videos alone.
Before acquiring this data, Dediu had been extrapolating iTunes video download statistics from iTunes gross revenues and known user base size. However, armed with this new information, Dediu adjusted his data and provided us with a new breakdown of the sources of Apple's iTunes revenue.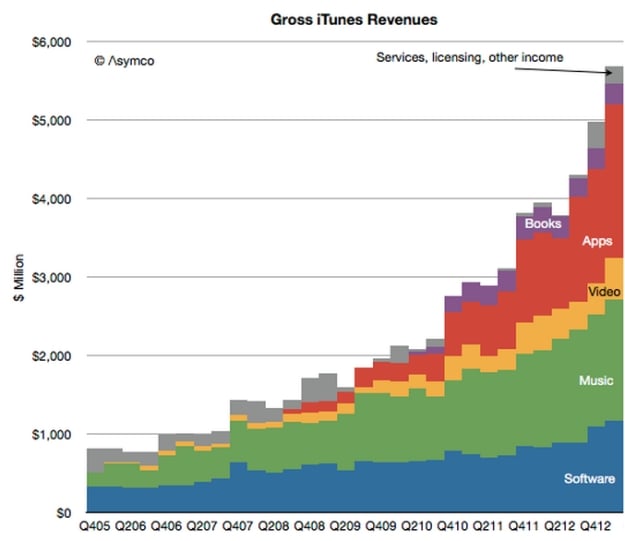 Although Dediu had only slightly underestimated the actual number of approximately one billion TV show downloads with his 963 million figure, he severely underestimated the number of movie downloads. The 380 million movie download figure that Apple provided this week was over three times higher than Dediu's estimate of 108.2 million.
In order to adjust for the larger than expected amount of video revenue, Dediu had to shift some of Apple's iTunes revenues from other categories. Consequently, he decided to move some of the services revenue into the video column. However, he states that he may also decide to adjust the Music revenue at a later date.
Apple's larger-than-expected number of video downloads may serve the Cupertino-based company well as viewers continue to migrate from watching traditional broadcast television to viewing content online. Perhaps Apple will one day parlay the success of iTunes videos into an integrated television set product that Steve Jobs so famously said he had "cracked."
Follow Nathanael on Twitter (@ArnoldEtan_WSCS)
Don't Miss: 5 Reasons Apple Is Owning the E-Book Trial Now.