Ohio Customer Downloads Apple's 50 Billionth App and 2 Other Hot Stocks to Watch
Apple (NASDAQ:AAPL): Current price $436.34
On Thursday, Apple announced that customers have downloaded more than 50 billion apps from the App Store. More to the point, customers are downloading in excess of 800 apps per second at a rate of over two billion per month. The 50 billionth app was Say the Same Thing by Space Inch, which was downloaded by Brandon Ashmore of Mentor, Ohio, who received a $10,000 App Store Gift Card to honor this historic milestone.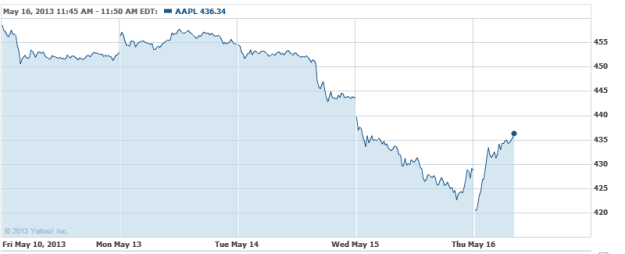 Tesla Motors (NASDAQ:TSLA): Current price $91.67
The market's reaction to Tesla Motors's approximate $830-million equity increase has impacted short-sellers. Shares popped by 7.6 percent to $91.28 in after hours trading Wednesday, as investors calculated in the rush of liquidity and the operational traction the firm gains with the change. The combo-financing, comprised of convertible debt and equity, alongside a fresh investment from Chief Executive Elon Musk, is notable in a number of ways, including much regret by short-sellers. By the last estimate, there were 27.5 million Tesla shares sold short, or 37.5 percent of Tesla's free float.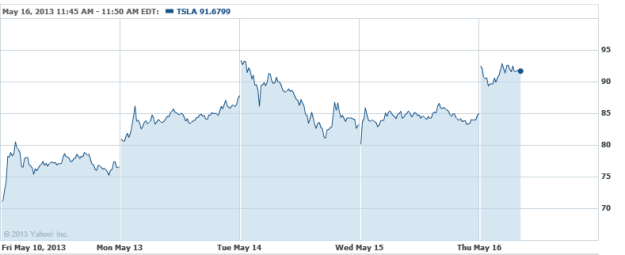 Intel Corporation (NASDAQ:INTC): Current price $24.25
Analyst Joseph Moore at Morgan Stanley on Thursday reiterated an Underweight on Intel and a price target of $20, noting that he thinks the company can stand up to rivals in the war for tablets based on Microsoft Corporation's (NASDAQ:MSFT) Windows 8, but that it will not significantly impact the company financially. For his impetus, Moore takes the presentation last week by Intel of its new "Silvermont" CPU core for mobile devices, which comprised an announcement that prompted more than one analyst to adopt a more positive outlook on Intel.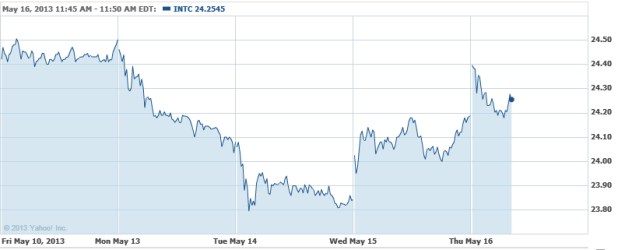 Don't Miss: Are iPhones Dangerous on Planes?