One Apple Analyst, 4 Penetrating Questions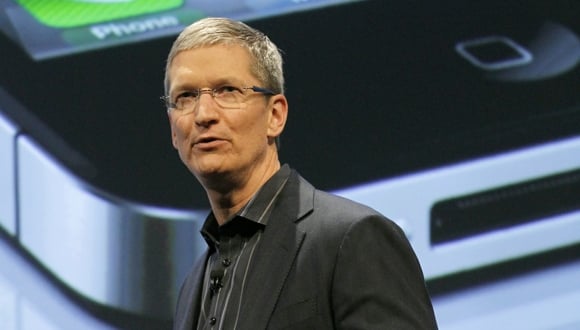 Apple (NASDAQ:AAPL) CEO Tim Cook will be attending the eleventh annual AllThingsD conference that kicks off this Tuesday, May 28. The Wall Street Journal's D: All Things Digital conference has long been a venue for the movers and shakers of the media and tech industries to openly discuss and debate the latest trends in digital technology. Although renowned Apple analyst Horace Dediu will not be in attendance at this prestigious gathering, he recently posted several questions that he would like to ask Tim Cook about Apple's current business practices and the future direction of the company.
Horace Dediu, who has a reputation as one of the most prescient and thoughtful Apple analysts working today, raises some interesting points that Cook may want to think about answering during his appearance at D11. First, Dediu asks, "Why is the iPhone not sold as a portfolio product?" The analyst notes, "Having a portfolio strategy is not only followed by every phone vendor but also by Apple for all its other product lines, including the iPad, which came after the iPhone."
Secondly, Dediu wants to know why Apple appears to be "uniquely selective" by only using 250 carriers of the "more than 800 operators world-wide." Dediu notes that Nokia (NYSE:NOK), BlackBerry (NASDAQ:BBRY), and Samsung (SSNLF.PK) all use over 500 different operators. "Are you limiting distribution through conditions placed on operators (like the availability of sufficient quality data services) or are operators finding the distribution agreement too onerous (e.g. too high a minimum order quota)?" asks the Asymco analyst.
Dediu's third question is about Apple's relatively recent increase in capital spending. "What is the purpose of this spending and what should we read into it leveling off at $10 billion for 2013?" asks Dediu.
Dediu's final question is about Apple's supply chain vulnerability to its rival smartphone maker, Samsung. Dediu states that "depending on one supplier is an operational faux pas, and yet Apple has found itself in that situation with Samsung for mobile microprocessors. It may be excusable in PCs with Intel (NASDAQ:INTC) having an architectural monopoly, but it's not excusable for a chip that you designed yourself and purchase in massive quantities. Why did you give Samsung such a concession, especially knowing their potential as a competitor vis-à-vis alternative suppliers who had no such potential?"
This final question is one of the most pressing, considering that the Cupertino-based company is currently engaged in multiple acrimonious patent infringement trials with its South Korea-based rival. Because of this ongoing litigation, Samsung may one day be inclined to cut Apple's supply chains for reasons other than shortages at the factories.
Here's how Apple traded last week.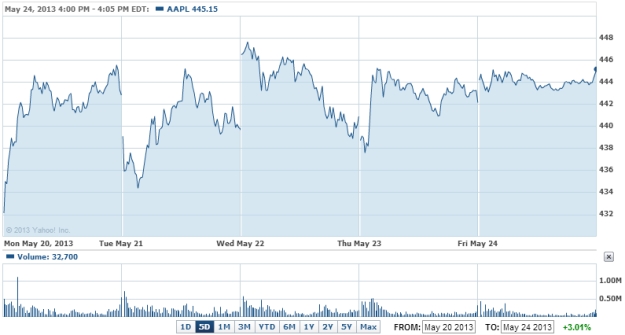 Follow Nathanael on Twitter (@ArnoldEtan_WSCS)
Don't Miss: Analyst: Android Smartphones Will Undercut Apple iPhone Sales.