Onxy Shares Skyrocket, Cablevision's Going to Trial: Market Recap
U.S. stocks rose today after a better-than-expected labor report as investors continue to watch political developments in Egypt and Portugal. Weekly jobless claims fell and private-sector companies increased hiring, but growth in the services sector slowed while U.S. deficit grew. That mixed bag of data led to a volatile trading day, which ended early in advance of the Independence Day holiday.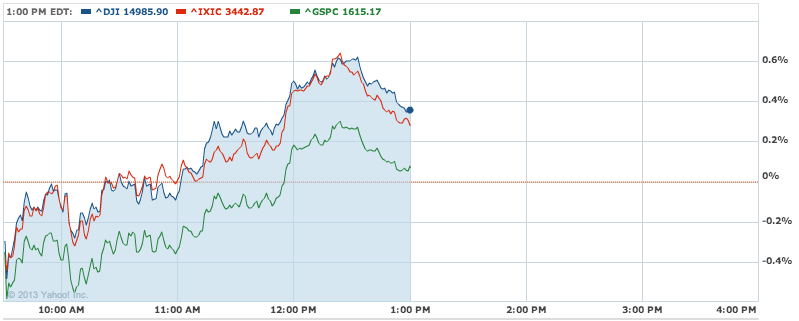 Gold: +0.74% to $1,252.60 per ounce; Oil: +1.68% to $101.27 per barrel; U.S. 10-Year: +1.30 to 2.501%
ADP: Hiring Picked Up Faster Than Expected Last Month: Businesses are adding jobs and laying off less workers. Following Challenger, Gray & Christmas's monthly job cuts report, which pointed to a noticeable slowdown in job cuts during the first six months of 2013, ADP's figures showed that hiring in the private sector picked up faster than expected last month… (Read more.)
Gallup: U.S. Workers Say Job Creation is at a Five-Year High: Oftentimes official data and personal experience do not match up — but in the case of the current labor climate, the two seem to be aligning. On Wednesday morning, the markets, economists, and general public were given a broad view of the American job market from a variety of sources… (Read more.)
How Healthy Is the U.S. Labor Market?: The elephant in the room during a typical diagnosis of the U.S. economy is the labor market. At 7.6 percent, the headline unemployment rate has come down 2.4 percent since hitting a post-recession high of 10 percent in October 2010. This decline has been cited as both an improvement of conditions and misleading about reality… (Read more.)
Here's your cheat sheet to today's top stocks stories:
Cablevision Systems Corp.'s (NYSE:CVC) request to stop its upcoming trial with the National Labor Relations Board has been turned down by Chief Justice John Roberts. Cablevision is being accused of unfair labor practices in regards to discouraging its workers from joining the labor union the Communications Workers of America… (Read more.)
Onyx Pharmaceuticals Inc. (NASDAQ:ONXX) shares skyrocketed more than 50 percent after the biopharmaceutical company knocked back an initial buyout bid from Amgen Inc. (NASDAQ:AMGN) and then put itself on the market. The San Francisco-based company confirmed it received and rejected an unsolicited proposal from Amgen Inc. to acquire all of Onyx's outstanding shares and share equivalents for $120 per share in cash, equating to an $8.7 billion offer… (Read more.)
Lululemon Athletica Inc. (NASDAQ:LULU) is being sued. Houssam Alkhoury, a Lululemon shareholder with 7,500 shares, filed a lawsuit Tuesday charging that the Vancouver-based company "defrauded shareholders" by intentionally hiding the defects in its yoga pants and concealing talks about CEO Christine Day's departure, resulting in shareholder losses… (Read more.)
Apple Inc.'s (NASDAQ:AAPL) Apple TV could be on its way to becoming the primary entertainment hub in consumers' living rooms. Sources told Bloomberg that Apple may soon be reaching a deal with Time Warner Cable (NYSE:TWC) that would give cable subscribers access to channels through the Apple TV device… (Read more.)
Dell (NASDAQ:DELL) is seeking advice from Institutional Shareholder Services on founder Michael Dell's bid to take the company private. ISS is not convinced his proposal is best for Dell, and a negative recommendation by the influential investor-advisory firm could increase the likelihood that investors will oppose his offer… (Read more.)
Nokia's (NYSE:NOK) decision to buy out Siemens's (NYSE:SI) share of their network equipment joint venture comes at turbulent time in the company's history. The 1.7-billion euro ($2.21 billion) price tag Nokia will pay Siemens to gain full control of Nokia Siemens Networks (NSN) is cheaper than expected, and analysts say the business provides solid growth potential, though it's not likely that the cyclical business is profitable enough… (Read more.)
Don't Miss: Jobless Claims Are Falling, But Will Hiring Pick Up Soon?
Follow Jacqueline on Twitter @Jacqui_WSCS