Oracle Debuts Its VM VirtualBox 4.3 and 2 More Heavily Traded Stocks to Follow
Oracle Corp. (NASDAQ:ORCL): Current price $32.76
Oracle VM VirtualBox 4.3 launches a virtual multi-touch user interface, supports additional devices and platforms, and gives improved networking capabilities enabling developers to virtualize modern post-PC era operating system features, while maintaining compatibility with legacy operating systems. Generally available on Tuesday, the VM VirtualBox 4.3 supplies the most recent enhancements to the world's most popular, free and open source, cross-platform virtualization software.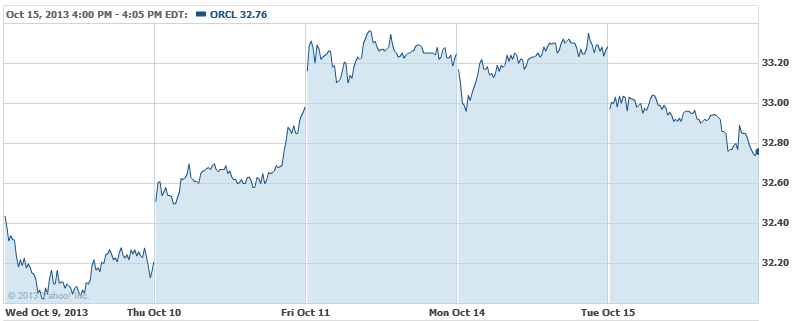 Apple Inc. (NASDAQ:AAPL): Current price $498.89
Apple is hoping that the Burberry Chief Executive Angela Ahrendts who it has hired to direct strategy, expansion, and operation of the company's retail and online stores, just as she rebuilt Burberry after overexposure of its trademark checkered pattern tired wealthy clientele. In recruiting Ahrendts, Chief Executive Tim Cook has charged her with the task of boosting iPad and iPhone sales, and returning some glitz to a brand that has not debuted a major new device in close to four years.

BlackBerry Ltd. (NASDAQ:BBRY): Current price $8.18
On Monday, BlackBerry published an open letter in 30 news outlets spanning nine countries, in its endeavor to reassure its worried customers and partners that it is financially stable and "here to stay," although it announced massive layoffs, with sources saying that it is in talks to sell all or part of itself. The embattled company stressed that its customers may continue to count on BlackBerry and its products, in the face of the difficulties it is experiencing.

Don't Miss: Nokia Is Giving Out Free Netflix Subscriptions.