OS X Mavericks Fuels Surge in Apple's Update Traffic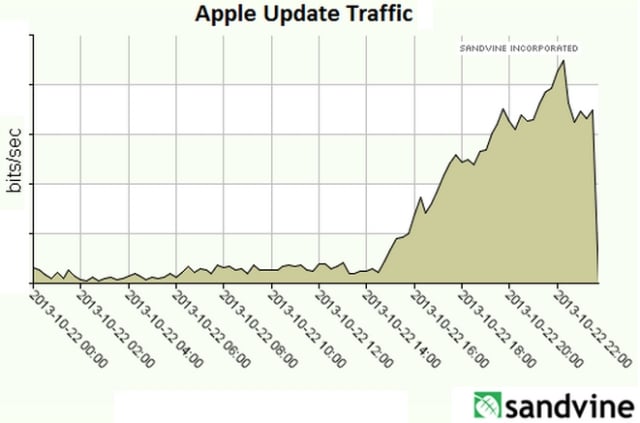 Apple (NASDAQ:AAPL) shocked some industry watchers last month when it announced that its latest desktop operating system, OS X Mavericks, would be available for free. "We want every Mac user to experience the latest features, the most advanced technologies, and the strongest security," explained Apple SVP of software engineering Craig Federighi. "We believe the best way to do this is to begin a new era of personal computing software where OS upgrades are free."
Not surprisingly, many Mac owners rushed to download OS X Mavericks soon after it became available from the Mac App Store on October 22. According to data provided by networking equipment company Sandvine, the free Mavericks release helped fuel a tenfold increase over Apple's typical update traffic levels on the network of one Internet provider in North America.
Although the majority of this traffic was likely due to downloads of the new OS X Mavericks, the data also included update traffic for all of Apple's software.  However, the free desktop operating system update appears to have been the main impetus behind the traffic spike.
According to Sandvine, last year's OS X 10.8 release only caused a sixfold increase to Apple's update traffic levels. However, last year's OS X 10.8 update cost $19.99. The increase in update traffic could also be partly attributed to Apple's overall larger user base and bigger update file sizes.
Online ad network company Chitika noted that over 11 percent of OS X traffic in North America was being generated by Mavericks users only five days after the update became available. In contrast, last year's OS X Mountain Lion update took over a month to hit the 10 percent level of adoption.
"With the recent launch of iOS 7, and now OS X 10.9, it is clear that ISPs should keep a close eye on not only publicly announced release dates of  Apple products, but media events as well, in order to ensure future Apple surprises don't negatively impact their networks," noted Sandvine blogger Dan Deeth. Here's how Apple has traded so far today.

Follow Nathanael on Twitter (@ArnoldEtan_WSCS)
Don't Miss: Munster: Apple Is Catching Up to iPhone 5S Demand.