Owners of iPhones Love Their Smartphones More
Although several analysts and pundits like to harp on Apple's (NASDAQ:AAPL) declining share of the worldwide smartphone market, users of the company's devices still dominate the statistics for overall use of their devices. A recent Experian Market Services study demonstrates what many Apple users may have already known – that iPhone owners spend a lot of time using their devices.
In fact, the average iPhone owner spends approximately 55 percent more time using their iOS-powered device than the owner of a Google's (NASDAQ:GOOG) Android-based device spends using theirs. The typical user of an Android device spends 49 minutes a day using their smartphone, while the typical iPhone owner spends about an hour and 15 minutes using their device.
So what are Apple users doing with the additional 26 minutes a day that they spend using their iPhone? They spend the majority of their time texting, talking, and accessing social networking sites. Users of iPhones spend 6 percent more time texting than users of Android-based devices.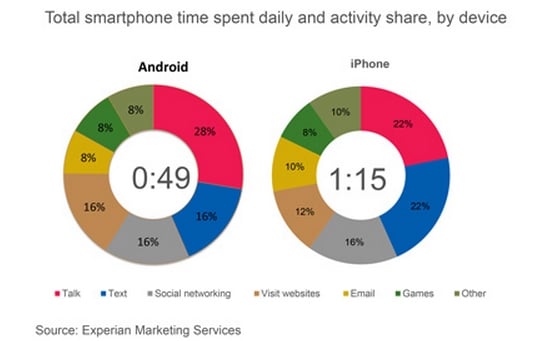 Android device users spend 28 percent of their time talking on phones, as opposed to 22 percent for iPhone users. So there is a slightly greater chance that the person talking loudly on the phone next to you is using an Android-powered device.
Overall it seems that iPhone users prefer to communicate through writing rather than talking. The study showed that iPhone users also emailed more than their Android counterparts. iPhone users spend 10 percent of their time emailing, which is 2 percent more than the average user of an Android-based smartphone.
Interestingly, users of Android devices spend more time visiting websites than Apple users do. However, according to a recent report from Net Market Share, Apple's iOS mobile platform is still responsible for a majority of all web traffic on smartphone and tablet operating systems, with a 59.04 percent chunk. This statistic was recently pointed out by Tim Cook at the All Things D conference in response to a question about Apple losing its "cool" factor.
Here's how Apple (in blue) and Google (in red) have traded so far this week.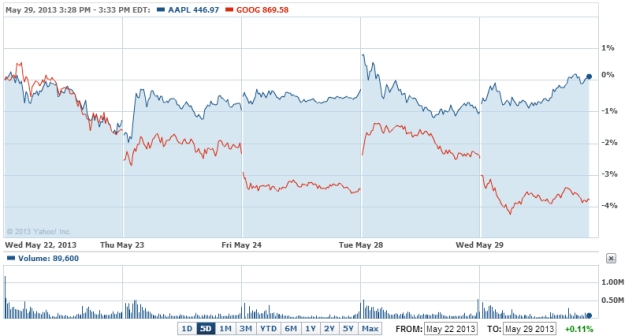 Follow Nathanael on Twitter (@ArnoldEtan_WSCS)
Don't Miss: What iPhone Hints Did Tim Cook Drop?