Pandora Backlash, Google's FTC Complaint: Market Recap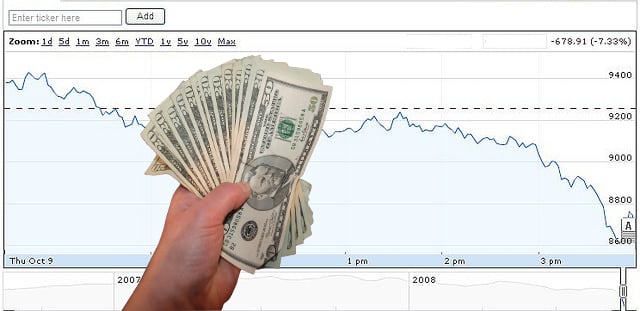 U.S. stocks climbed for the second day in a row, even after the growth rate of gross domestic product was revised to a more modest figure, as investors were given new hope that the Federal Reserve will continue handing out stimulus for the foreseeable future. It was expected that the GDP would grow 2.4 percent in the first quarter, but the actual figure ended up being only 1.8 percent growth.

Gold: -3.48% to $1,230.50 per ounce Oil: +0.17% to $95.48 per barrel  U.S. 10-Year: -1.93 to 2.539%
Revised GDP Figures Give Economists a Shock: Unexpectedly, gross domestic product was revised downwardly by the Department of Commerce on Wednesday. It is not uncommon for the government to revise its GDP figures several times, but economists were not expecting a dramatic change. An earlier estimate put economic activity at a 2.4 percent annual rate for the first three months of the year, with analysts noting that the United States economy had definitely begun to feel the effects of austerity… (Read more.)
Will More Regulation Protect Banks From Risk?: The Bank of England and other central banks have been working for a while now to keep interest rates low, with the British bank maintaining a record lending rate of 0.5 percent since April 2009. Outgoing Bank of England governor Mervyn King warned the U.K.'s financial institutions that they may need more capital to survive an increase in rates. Under King, the BoE set up a new watchdog known as the Financial Policy Committee to assess risk at British banks… (Read more.)
Will IRS Compensate Targeted Victims?: National taxpayer advocate Nina Olsen is soliciting Congress to compensate those who were affected by the IRS's targeting. Trying to claim "apology payments" of up to $1,000 for groups affected, Olson called the potential payments more symbolic than anything… (Read more.)
Here's your cheat sheet to today's top stocks stories:
Pandora Inc. (NYSE:P) is facing backlash from musicians because of the internet radio provider's numerous attempts to reduce the loyalties it's required to pay for music streamed on the service. Earlier this month, Pandora bought a small terrestrial radio station in Big Rapids, South Dakota, in order to take advantage of and draw attention to the reduced royalty fees that are available to operators of terrestrial radio stations, but not internet radio… (Read more.)
Google (NASDAQ:GOOG) and other search engines are being called out by the Federal Trade Commission for not distinguishing enough between online ads and regular search results, a practice the FTC thinks is "deceptive" to consumers. The FTC claims that search engines have been including more advertising on their sites while doing less to distinguish those ads from actual search results… (Read more.)
Starbucks (NASDAQ:SBUX) has officially announced that it will open 100 new stores in Malaysia over the next four years, demonstrating its long-term commitment to the Southeast Asia region. The announcement comes just as the global coffee chain prepares to celebrate its 15-year anniversary of operations in Malaysia, which is made up of thirteen states and three federal territories… (Read more.)
Verizon Communications (NYSE:VZ) had long been blocked by foreign investment rules from expanding into Canada's lucrative wireless market, but now, the company may have just found its in. Verizon is targeting two struggling Canadian wireless carriers, Wind Mobile and Mobilicity, to help it tap in. Its recent $700-million offer for Wind Mobile marks the beginning of Verizon's trek up North… (Read more.)
Apple (NASDAQ:AAPL) is promoting several new business-friendly features it has added to its iOS 7 mobile operating system through a new section on its website. The new promotion is part of the company's overall strategy to attract more enterprise users to its platform. On its website, Apple says, "iOS 7 provides enhanced security, powerful new ways to configure and deploy devices at scale, and features to help businesses purchase, distribute, and manage apps with ease." (Read more.)
Follow Jacqueline on Twitter @Jacqui_WSCS
Don't Miss: 7 Facts to Know How Americans Save for the Future.