Pandora CEO Downplays Impact of Apple's iTunes Radio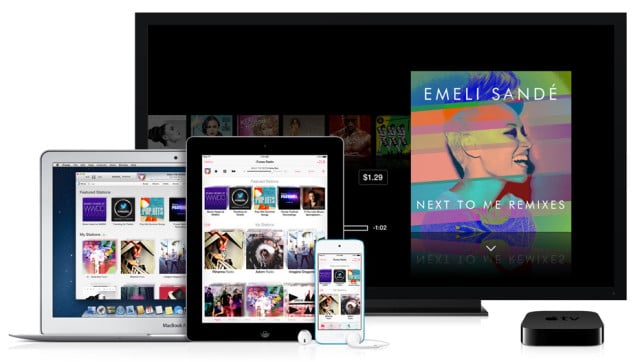 Is Apple's (NASDAQ:AAPL) iTunes Radio already eating into Pandora's (NYSE:P) user base? Pandora closed down over 1.5 percent on Friday after the company provided fourth-quarter earnings guidance that fell below consensus expectations and the CEO acknowledged that the company may have temporarily lost some users to Apple's iTunes Radio.
During the company's fiscal third-quarter earnings call, CEO Brian McAndrews noted that Pandora's 70.9 million active listeners in October was a 20 percent increase over the number of listeners during the same period last year. However, this also represented a 2.6 percent decline in active listeners from September when Apple launched its competing iTunes Radio music streaming service.
"We attribute this decline to Pandora's most casual listeners experimenting with other services, most likely iTunes Radio," stated McAndrews. Apple launched iTunes Radio on September 18 as part of iOS 7. Apple announced that iTunes Radio already had over 11 million unique listeners just five days after the service was launched. By October 28, Apple CFO Peter Oppenheimer reported that, "The number of unique listeners who have tried iTunes Radio is now 20 million and growing."
Despite Pandora's monthly decline in listeners, McAndrews believes that, "The modest declines were largely confined in the first few weeks after iTunes Radio launched."
"Since then, we have seen active listeners stabilize," stated McAndrews, "and begin to return to growth at the end of October." Last month, Pandora CFO Mike Herring told CNET that Apple may not be delivering the best possible music streaming service because the iPhone maker is mostly focused on "selling cell phones or downloads." Although Apple appears to have already impacted Pandora's active user base, Pandora is still by far the biggest online radio network. However, it should also be noted that iTunes Radio is currently only available in the U.S., while Pandora is available in the U.S., Australia, and New Zealand.
Senior vice president Eddy Cue recently outlined Apple's plans to roll out its music streaming service internationally. "One of our top priorities is to bring iTunes Radio obviously here in the U.K. but everywhere in the world," said Cue at the iTunes Festival in London. "We certainly want to be in more than 100 countries."
Here's how Apple and Pandora closed on Friday.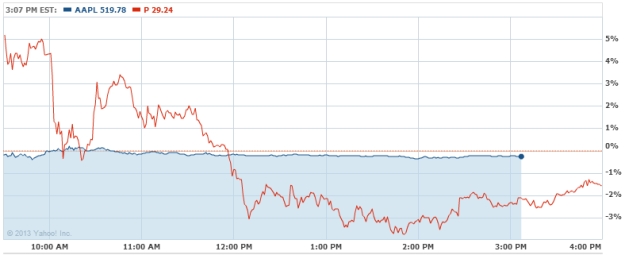 Follow Nathanael on Twitter (@ArnoldEtan_WSCS)
Don't Miss: Einhorn Gives Apple Team a Barely Passing Grade.