Pandora: Investors Unable to Tune-Out Reduced Outlook
Despite reporting better-than-expected financial results for the third quarter last week, shares of Pandora (NYSE:P) plunged as investors were unable to tune-out a reduced outlook.
How Good Are the Earnings?
The Internet-radio company reported net earnings of $2.1 million (1 cent per share), compared to $661,000 or break-even a year earlier. Adjusted earnings, which exclude stock-based compensation, more than doubled to 5 cents a share, easily beating estimates for just 1 cent per share. Revenue surged 60 percent to $120 million, compared to $75 million in last year's third quarter. Wall Street had expected revenue of about $117 million.
Catalysts are critical to discovering winning stocks. Check out our newest CHEAT SHEET stock picks now.
"This quarter exceeded our expectations as we monetized mobile at record levels and grew total mobile revenue 112 percent," stated Joe Kennedy, chairman and chief executive officer of Pandora. "During the quarter we launched Pandora 4.0, the biggest redesign on the iOS (NASDAQ:AAPL) and Android (NASDAQ:GOOG) platforms ever, bringing new, innovative and enhanced functionality to mobile devices for the first time for both users and advertisers." Pandora says mobile users now represent 77 percent of listener hours.
How Bad is the Outlook?
The upbeat third quarter results fell on deaf ears. Pandora surprised investors by predicting an adjusted loss between 6 cents and 9 cents per share for the fourth quarter,  which extends through January. It also expects quarterly revenue to come in at $120 million to $123 million. In comparison, Wall Street was anticipating a fourth quarter profit of 1 cent per share, on revenue of $130 million, according to analysts polled by Thomson Reuters.
For the full-year, Pandora expects an adjusted loss of 9 cents to 12 cents a share, on revenue of $422 million to $425 million. Earlier this year, it forecast an adjusted loss between 4 cents and 8 cents per share, on revenue of $25 million to $432 million.
What is causing Pandora to turn the volume down…
Pandora has struggled with rising content costs, as a larger audience of listeners brings about higher royalty expenses for songs. However, the company blames the reduced outlook on…wait for it…the fiscal cliff. Kennedy explains,"Over the last couple months there has been increasing caution from advertisers. We're having conversations with advertisers that go beyond end of the calendar year. There are concerns about the effect the fiscal cliff will have on growth, and it's reduced our visibility. When our clients are cautious, we have to be cautious," according to Bloomberg. He believes most of the slowdown will occur in January.
CHEAT SHEET Analysis: Technicals on the Stock Chart are Weak
Pandora is a classic example of a great service, but a lousy stock. Shares dropped more than 13 percent in Wednesday trading, adding to the dismal performance of Pandora since its initial public offering last year at $16 a share. Similar to other popular Internet IPOs like Groupon (NASDAQ:GRPN) and Zynga (NASDAQ:ZNGA), Pandora has been in a downward trend since going public.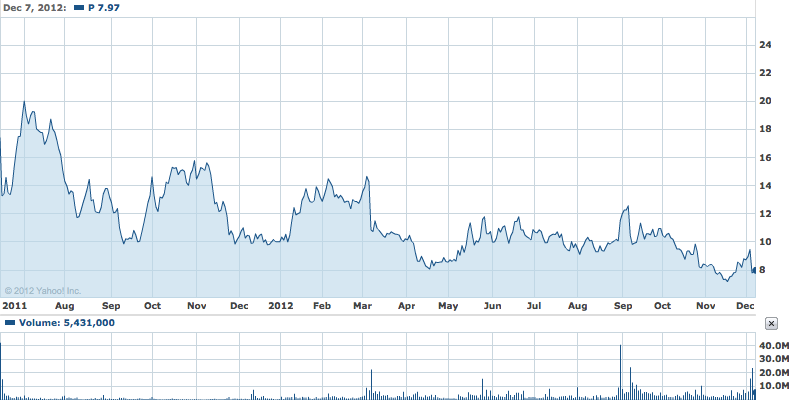 Investor Insight: True Safe Havens Needed as Fed Monetizes Uncle Sam