Pandora Pops on Active Listener Numbers and 2 More Heavily Traded Stocks to Follow
Pandora Media Inc. (NYSE:P): Current price $28
Pandora shares are up more than 9 percent Tuesday after the firm released numbers indicating gains in share and active listeners in the domestic radio market, which would imply that the Internet radio player is standing up to Apple Inc.'s new iTunes Radio service. Pandora said that users listened to 1.47 billion hours of music and programming on its service during October, marking an 18 percent jump from 2012.
Hertz Global Holdings Inc. (NYSE:HTZ): Current price $21.20
It has been reported that Advantage Rent A Car, which Hertz spun off when it acquired Dollar Thrifty, will file for bankruptcy subsequent to Hertz terminating lease agreements that supplied Advantage with its vehicles. Shares of Hertz close to 10 percent Tuesday after Advantage's owners said that the book value of the cars passed to them at the time of the sale in 2012 was excessive. Hertz canceled the lease arrangements on 24,000 Advantage vehicles on Saturday, blaming Advantage's owners for failing to make some payments.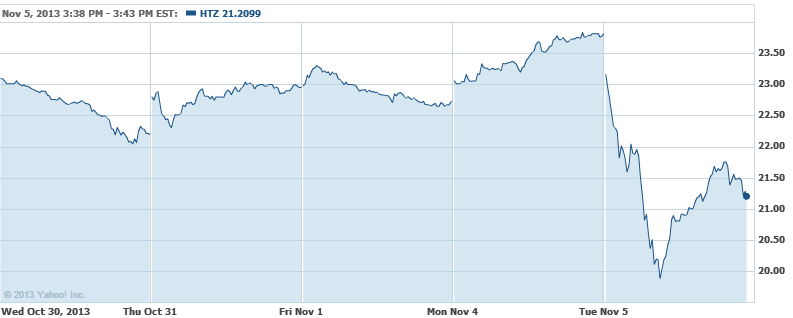 NQ Mobile Inc. (NYSE:NQ): Current price $9.43
Shares of the Chinese mobile Internet security firm NQ Mobile are collapsing Tuesday after the research firm Piper Jaffray suspended its rating, price target, and estimates on the stock. The firm explained that the suspensions will stay in place while it "more deeply" investigates allegations against the company. On October 24, Muddy Waters Research said the stock is a "massive fraud," writing that NQ's number one customer is really itself, and that it hugely overstates its market share and user base. NQ Mobile's shares were begun on October 24 with a Strong Sell.

Don't Miss: The 5 Best October Box Office Totals of All Time.