Pandora's CFO Calls Apple's iTunes Radio a 'Credible Threat'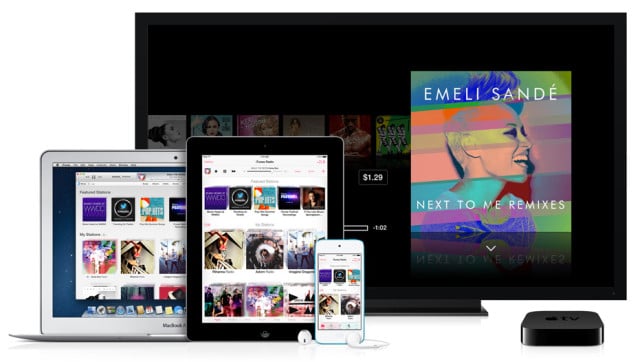 Will Apple's (NASDAQ:AAPL) iTunes Radio kill Pandora (NYSE:P)? Apple previously helped kill the CD business with its iTunes digital downloads and some industry watchers believe that Pandora might similarly fall victim to iTunes Radio. In a recent interview with CNET's Joan E. Solsman, Pandora CFO Mike Herring acknowledged the challenge that Apple's recently launched iTunes Radio service poses to the world's biggest online radio network.
Although Herring stated that he views iTunes Radio as a "credible threat" and "a competitive option," he believes Pandora is "a great service that does this better than anybody else." The Pandora executive noted that "large, well-funded companies" like Apple have other business agendas that may keep them from delivering "a really awesome music experience" like Pandora does.
By remaining so focused on "selling cell phones or downloads," Apple may not be delivering the best possible service, noted Herring. Although Pandora also sells downloads, Herring stated that his company's "priority isn't to sell as many downloads as possible" like Apple does.
Herring also deflected criticism about the royalty rates that Pandora pays to performers. He noted that digital piracy and download platforms like iTunes have created a history of mistrust in the negotiations between music streaming service companies and the record labels. According to Herring, Pandora paid about a quarter of the total worldwide royalties paid by radio, despite only having a 7 percent share of the U.S. radio market.
However, Pandora pays a royalty rate set by the government and is currently engaged in litigation to lower the music royalties that it does pay. On the other hand, Apple negotiated its own per-track rates with each of the record labels. According to a leaked copy of an iTunes Radio contract, Apple pays a 0.13 cents fee for every "royalty bearing performance" that is played, plus a 15 percent slice of the net advertising revenue.
Although Pandora's latest audience metrics indicate that it is still the biggest online radio network with 72.7 million active listeners, Apple's iTunes Radio appears to be quickly gaining ground. Despite being a newcomer to the music streaming industry, Apple announced that iTunes Radio already had over 11 million unique listeners just five days after the service was launched.
Apple may also be able to secure a large share of the international market before Pandora does. While Herring told CNET that, "There is nothing short-term for an international opportunity" for Pandora, Apple senior vice president Eddy Cue recently stated that Apple already has plans to roll out iTunes Radio internationally.
"One of our top priorities is to bring iTunes Radio obviously here in the U.K. but everywhere in the world. We certainly want to be in more than 100 countries," said Cue via the Associated Press. Here's how Apple has traded over the past five trading sessions.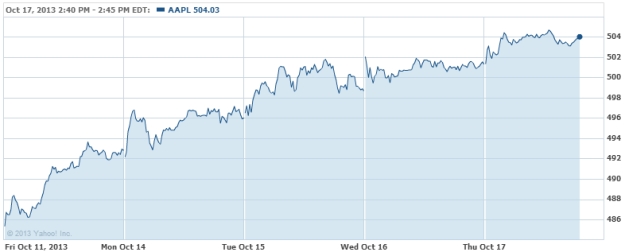 Follow Nathanael on Twitter (@ArnoldEtan_WSCS)
Don't Miss: Which iPad Will Win Over the Holidays?