Patent Wars: BlackBerry Sues Ryan Seacrest Company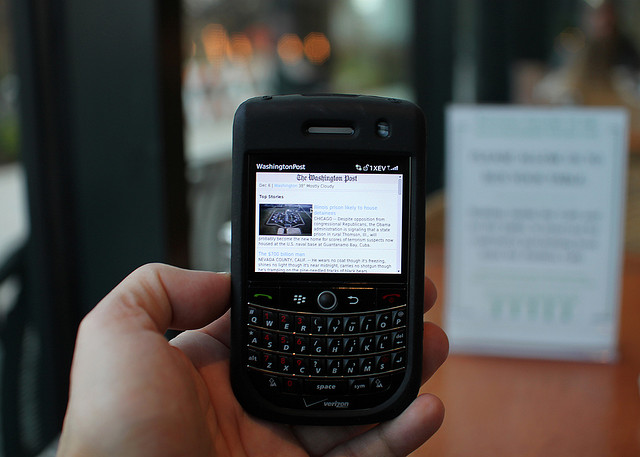 BlackBerry Ltd. (NASDAQ:BBRY) is suing a start-up company called Typo Products LLC in an effort to protect on of its signature designs; the Canadian smartphone company has accused Typo, which was co-founded by Ryan Seacrest of "American Idol" fame, of infringing on one of its patents, reports PC World.
Typo Products LLC makes a slip-on keyboard case for the Apple (NASDAQ:AAPL) iPhone that allows its users to use a physical keyboard with their iPhone, in a style that resembles BlackBerry's signature keyboard. The keyboard was developed to make typing on the iPhone quicker, as well as to reduce the likelihood of typos compared to the phone's built-in touchscreen keyboard.
One of the classic design features of BlackBerry's smartphones has been the physical keyboard, which some say is preferable to a touchscreen keyboard, particularly if you need to write a lot of text, such as e-mails on your phone. While BlackBerry has switched to touchscreen keyboards for many of its models, it still makes a smartphone with its classic, physical keyboard. The Typo keyboard case was scheduled to go on sale this month.
BlackBerry's general counsel and chief legal officer said in a statement, "This is a blatant infringement against BlackBerry's iconic keyboard, and we will vigorously defend our intellectual property against any company that attempts to copy our unique design," according to PC World. "We are flattered by the desire to graft our keyboard onto other smartphones but we will not tolerate such activity without fair compensation for using our intellectual property and other technological innovations," Zipperstein continued, per CBS.
"Typo chose to copy BlackBerry's iconic keyboard design as embodied in, among others, BlackBerry's Q10 smartphone," says the lawsuit, which, according to PC World was filed Friday in the Northern District of California and seeks to obtain compensation for copyright violation in a trial by jury.
In recent years BlackBerry, which was once a major player in the smartphone market, has been outpaced by other competitors, namely Apple's iPhone and Google's Android phones. In the September to November quarter of last year BlackBerry's revenue totaled 1.2 billion, which is down 56 percent from the previous year, reports PC World.
More From Wall St. Cheat Sheet: