Pebble Vies for Apple's Core With Pointed Smartwatch Update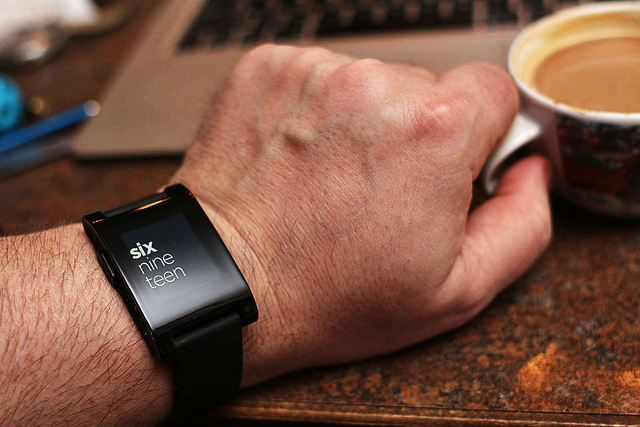 Pebble Technology is the latest tech company to prove that dreams really do come true. Now, all it has to do is convince Apple (NASDAQ:AAPL) to jump on board. According to All Things D, the Palo Alto, California-based startup began as an 11-person operation, but has transformed into a 40-person business that launched its Pebble smartwatch in 2013, funded via a crowd surfing platform, Kickstarter.
With the help of this company's backers, Pebble has been able to sells 190,000 units of its black-and-white non-touch display at $150 a pop, and it rolled out new software Wednesday that it hopes will increase its appeal to popular tech giants like Google (NASDAQ:GOOG) and Apple.
Insiders were interested to see how Pebble could increase its device's compatibility on today's most popular operating systems, and the startup met expectations by delivering a software update that makes the watch more useful for those running Apple's new iOS 7 operating system. Until Wednesday, according to CNET, the Pebble could only access texts, email notifications, and incoming call information from iPhones, but now, all of the smartphone's apps can be reached via the wearable technology. The smartwatch allows users to access all of their notifications on their wrist, instead of relying on the ability to visit their smartphones or computers for the latest status updates.
Consumers have cited disappointment that Pebble won't unleash a new smartwatch by the end of the year, especially as it faces increasing competition from major tech giants, but the startup has at least navigated a smaller-scale facelift by also announcing Wednesday that developers can now more easily write apps for the watch. According to CNET, by giving developers greater access to Pebble's built-in tech, they can store on the device themselves, rather than relying on the cumbersome process of having information sent from a linked phone.
App writers can also now access a JavaScript engine that will be built for the Pebble app for both iOS and Android devices, and this will help developers more easily create programs, and encourage new apps like the popular fitness trackers and venue reviewers.
Thus far, popular companies like Yelp (NYSE:YELP) and Four Square have already jumped on board, but Pebble is still holding out for bigger deals from the likes of Google and Apple. The startup has the potential to make it big, considering it did unleash the patriarch of this generation of smartwatches, but the prospect of competition from Samsung, Microsoft (NASDAQ:MSFT), Apple, and Google is not a pretty one.
Don't Miss: Analyst: Apple Will Offer Multiple iPhone Refreshes Per Year.