Power-Hungry Apple Gets Serious About Clean Energy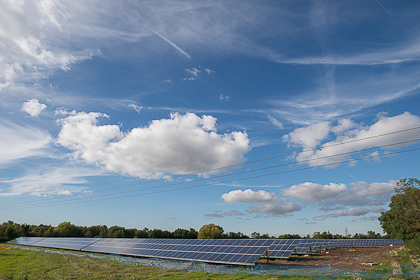 Apple Inc (NASDAQ:AAPL) is making some notable moves in order to accomplish its eventual goal of powering all of its facilities with renewable energy. The company is poised to build a new 137-acre solar farm in Reno, Nevada next to its new data center. The construction of the plant reflects an important step in eventually powering all of the company's data centers with renewable energy.
Apple will team up with NV Energy Inc (NYSE:NVE) in its new venture to help stem the company's high consumption of energy — a reality the the tech giant has recently come under fire for. Apple, along with Google (NASDAQ:GOOG), Facebook (NASDAQ:FB), and Amazon.com (NASDAQ:AMZN) have all been targeted by environmental groups that criticize the exorbitant amount of electricity their huge data centers require to be able to stream content through mobile devices and manage their magnitude of information. Fox News reports that environmental group Greenpeace has especially pressured these companies to use more renewable energy and do their part to reinforce the recent progressive climate policies.
And for that reason Apple has vowed to do its part to invest more in renewable energy. The company has already reported to have significantly cut its facilities' environmental impact, but this new solar plant will also garner the company more positive attention. According to a statement from Apple via Reuters, the solar farm will generate 43.5 million kilowatt hours of clean energy to the local power grid, a figure that is "equivalent to taking 6,400 passenger vehicles off the road per year."
The company's statement explains, "All of Apple's data centers use 100 percent renewable energy, and we are on track to meet that goal in our new Reno data center using the latest in high-efficiency concentrating solar panels. This project will not only supply renewable energy for our data center but also provide clean energy to the local power grid."
And this isn't Apple's only data center that runs on solar power. It also runs the largest data center in the U.S. in Maiden, North Carolina on solar power, which produces 167 million kilowatt hours.  The tech giant also has a manufacturing site in Cork, Ireland that is powered entirely by wind, and sites in Elk Grove, Calif., and Austin, Texas, which are run by renewable energy as well.
In addition, Apple's new data facilities in Reno won't only support renewable energy, but they'll also provide more than 1,000 jobs and boost revenue efforts in the region. The tech company has already secured permission to expand the solar farm in the future, forecasting many solar gains for Apple.
Don't Miss: Is Samsung's Major Stock Stumble a Bad Sign for Everyone?