Price Tags and Screen Sizes Are Driving Tablet Growth
When Apple (NASDAQ:AAPL) released its iPad mini last year, many critics accused the company of lacking innovation. The 7.9-inch tablet does not have a retina screen or exciting new features. However, a smaller cheaper tablet is exactly what consumers are buying.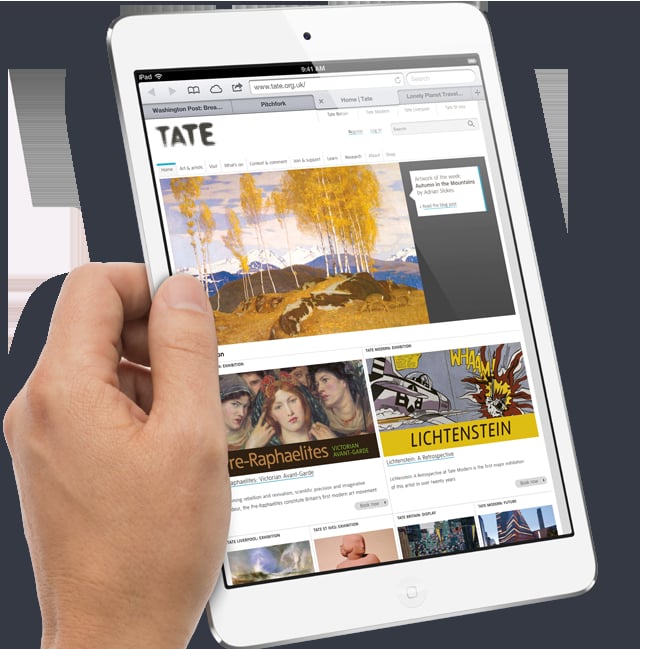 Dollar votes matter the most in the retail industry, and shoppers are voting for more affordable tablets, even if the screen sizes are smaller. Market research firm International Data Corporation now expects the worldwide tablet market to reach 190.9 million units in 2013, up from its previous forecast of 172.4 million units. Between 2013 and 2016, the tablet industry is expected to grow by 11 percent annually. Tablet shipments are forecast to be upwards of 350 million units by the end of 2017, due to the popularity of smaller tablets.
"One in every two tablets shipped this quarter was below 8 inches in screen size. And in terms of shipments, we expect smaller tablets to continue growing in 2013 and beyond" said Jitesh Ubrani, research analyst for IDC's Tablet Tracker. "Vendors are moving quickly to compete in this space as consumers realize that these small devices are often more ideal than larger tablets for their daily consumption habits."
Earlier this year, Apple announced it sold nearly 23 million iPads in the final quarter of 2012. This figure includes regular and mini iPad sales, but it is a clear increase from the 15.4 million sold in the same quarter of 2011. Meanwhile, Amazon.com (NASDAQ:AMZN) recently acknowledged that its 7-inch Kindle Fire HD is the company's best-selling product.
According to IDC, Android-based (NASDAQ:GOOG) tablets are expected to peak at 48.8 percent market share this year, and edge lower to 46 percent by 2017. Apple is expected to hold 46 percent of the market in 2013, but 43.5 percent in 2017. Surprisingly, the firm expects the market share of Windows-based (NASDAQ:MSFT) tablets to nearly triple to 7.4 percent in 2017. Windows RT is predicted to have 2.7 market share in 2017, compared to 1.9 percent in 2013.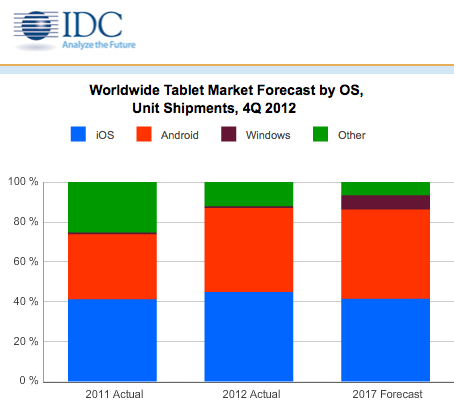 "Microsoft's decision to push two different tablet operating systems, Windows 8 and Windows RT, has yielded poor results in the market so far," said Tom Mainelli, Research Director. "Consumers aren't buying Windows RT's value proposition, and long term we think Microsoft and its partners would be better served by focusing their attention on improving Windows 8. Such a focus could drive better share growth in the tablet category down the road."
Don't Miss: Chart of the Day: Tablets Top Smartphones