Radar Movers: Alcoa Starts Earnings Season, Clearwire Receives DISH Offer
Shares of Alcoa (NYSE:AA) jumped more than 1.5 percent in late afternoon trading. The aluminum giant reported financial results for the fourth quarter. Net income increased to $242 million (21 cents per diluted share), compared to a net loss of $191 million a year earlier. "Alcoa hit record profitability in our mid and downstream businesses, and continued to drive efficiency in our upstream businesses in the fourth quarter, all while cutting debt and maintaining our cash position," said Klaus Kleinfeld, Alcoa Chairman and CEO.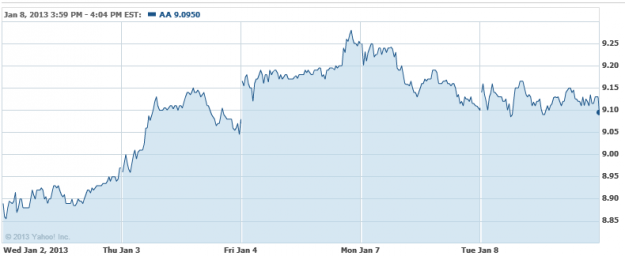 Microsoft (NASDAQ:MSFT) shares edged slightly higher in late afternoon hours. The company announced at CES 2013 that it has sold 60 million Windows 8 licenses to date, compared to 40 million reported in late November. This accounts for both upgrades and sales to OEM's for new devices. Microsoft notes, "This is a similar sales trajectory that we saw with Windows 7."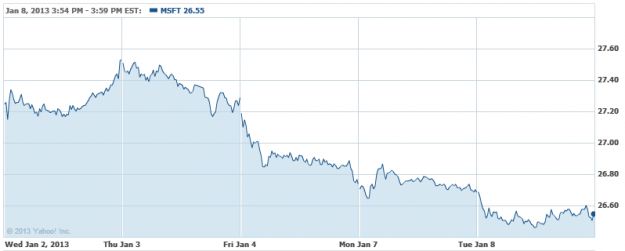 Save time and make money with our LOWEST ADVERTISED PRICE EVER to help you achieve your financial goals in 2013. This is a LIMITED TIME OFFER, so get your Stock Picker Newsletter now!
Despite a broad market pullback, Apple (NASDAQ:AAPL) shares finished the day in the green. AT&T (NYSE:T) announced it sold more than 10 million smartphones in the fourth quarter, beating the record amount of 9.4 million units a year earlier. AT&T explains in a press release, "During the quarter, we averaged more than 110,000 smartphone sales a day as customers flocked to our leading portfolio of the latest Android (NASDAQ:GOOG), Apple and Windows devices."

Shares of DISH Network (NASDAQ:DISH) dropped 1.3 percent after Clearwire (NASDAQ:CLWR) said it received an unsolicited, non-binding proposal from the company. Clearwire states the proposal "provides for DISH to purchase certain spectrum assets from Clearwire, enter into a commercial agreement with Clearwire, acquire up to all of Clearwire's common stock for $3.30 per share (subject to minimum ownership of at least 25% and granting of certain governance rights) and provide Clearwire with financing on specified terms." The proposal is only a preliminary indication of interest.

Investor Insight: Is The U.S. Debt Ceiling Really A Debt Target?