Radar Movers: Amazon and Chesapeake Surge, Broadcom's Outlook Disappoints
Shares of Amazon.com (NASDAQ:AMZN) jumped more than 8 percent after announcing quarterly results. Net income fell 45.2 percent to $97 million (21 cents per share), compared to $177 million a year earlier. However, revenue increased 22 percent to $21.27 billion. "We're now seeing the transition we've been expecting," said Jeff Bezos, founder and CEO of Amazon.com…
…After 5 years, eBooks is a multi-billion dollar category for us and growing fast – up approximately 70 percent last year. In contrast, our physical book sales experienced the lowest December growth rate in our 17 years as a book seller, up just 5 percent. We're excited and very grateful to our customers for their response to Kindle and our ever expanding ecosystem and selection."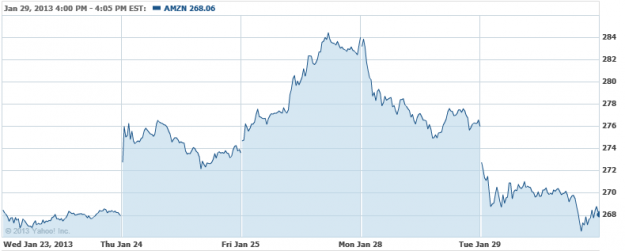 Apple (NASDAQ:AAPL) shares gained nearly 2 percent on Tuesday and continue to edge higher in late afternoon trading. The company announced the launch of a 128GB version of the fourth-generation iPad. The latest unit, which doubles the storage capacity of the largest iPad model currently in the market, will be available in both Wi-Fi-only and cellular capabilities. It goes on sale on February 5.
The fourth generation of Apple's full-sized iPad lineup now has four different capacities, starting at 16GB for the entry-level model. The iPad mini still offers 64GB as the maximum capacity. Google (NASDAQ:GOOG) shares also edged higher in late afternoon trading.

Shares of Chesapeake Energy (NYSE:CHK) surged more than 9 percent in late afternoon hours. The natural gas giant announced that Aubrey K. McClendon, chief executive officer and president, will be retiring on April 1, 2013. He has served as the CEO since he co-founded the company in 1989, but has been involved in conflict-of-interest cases.

Broadcom (NASDAQ:BRCM) shares edged slightly lower in late afternoon trading. The company announced earnings of $462 million (76 cents per share), compared to $254 million a year earlier. However, Broadcom said revenue for the first quarter will be between $1.82 billion and $1.98 billion, below the $2 billion estimated by Wall Street.

Investor Insight: Is Coal Set to Burn Higher?